Liuzhou officials visit LK
From: 2018-06-28 To: 2018-06-28
Region: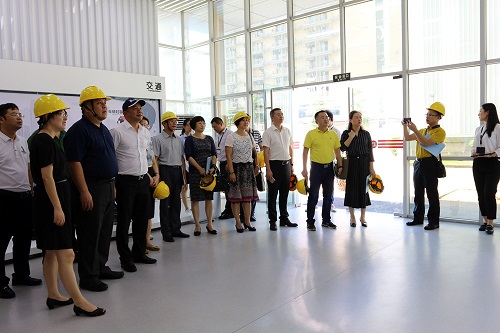 On June 28th, the Standing Committee of Liuzhou Municipal Committee, the Minister of the United Front Work Department Xiang Jun, the Deputy Minister of the United Front Work Department of Liuzhou Municipal Committee, and the Secretary of the Party Committee of the Federation of Industry and Commerce, Li Yufen and others visited the company. The general manager of LK Group Shenzhen Pan Lingling and the South China Marketing Director Deng Yiming presided over the meeting. Reception work for the Liuzhou Municipal Government Research Group.
It is understood that the Liuzhou Municipal Government has formed a research group and went to Beijing, Shanghai, Shenzhen and other first-tier cities to conduct research and study, to understand the advanced experience and specific policies of the local governments in optimizing the business environment, and to select local outstanding enterprises to understand Local enterprises in the government environment, business security, financing services, tax collection and management, safety quality recognition and production licensing, improve investment and other specific needs, and finally introduce relevant business policies, optimize reform and optimize business environment, in Liuzhou We will create a business environment that is more suitable for corporate growth and further enhance the core competitiveness of Liuzhou City. In this trip to Shenzhen, LK and Huawei will be the key research companies.
The research team visited the LK Industrial Park, the group exhibition hall and the large-scale die-casting machine assembly site. Ms. Pan Lingling, General Manager of LK Shenzhen, gave a detailed introduction on corporate performance management and safety management. At the same time, she answered the most important corporate development needs and related policy support issues of the research team, and put forward some constructive opinions.
As an important pillar industry in Liuzhou, many well-known automobile brands have established production bases in Liuzhou. In the group exhibition hall, the leaders of the research team watched the video of LK's intelligent production process and then worked hard on the auto parts field. The azimuth smart solution is full of praise and hopes to cooperate with LK in the future to help Liuzhou more auto production bases to enhance their comprehensive strength.
The strength of LK and Liuzhou is derived from LK Yiyang Technology Co., Ltd., a partner of LK for many years. The company uses LK low-pressure casting machine for the whole line, which is customized for many automobile OEMs such as SAIC-GM-Wuling, Chongqing Changan and Beiqi Foton and developing aluminum alloy wheels. The leaders of the Liuzhou Municipal Government will select the Shenzhen research site for this research activity, which is the recognition of LK Group. The future will continue to enhance the strength of equipment technology, provide personalized service solutions for more customers, and also hope to cooperate with Liuzhou. The city deepened cooperation and jointly created the Liuzhou automobile industry empire.