Signing ceremony: LK Group and Seiko Die Casting jointly development
From: 2022-01-13 To: 2022-01-13
Region: China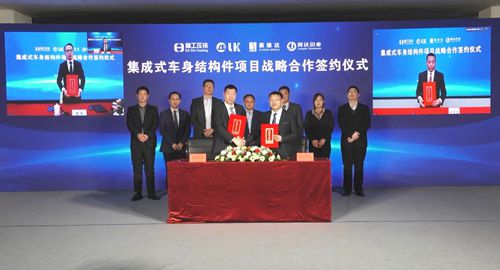 At present, the global automobile manufacturing industry is developing in the direction of intelligence, electrification, and light weight. The integrated die-casting technology around large structural parts such as the front underbody and rear underbody of the vehicle is becoming the focus of continuous industry attention and inter-industry cooperation.
On January 13th, the world-renowned die-casting aluminum alloy structural parts manufacturer-Jingcheng Gongke Automotive Systems Co., Ltd. Die-casting Branch (referred to as "Seiko Die-casting"), together with LK Group, Severda, Longda Aluminum, etc. "Integrated Body Structural Die Casting Technology Forum and Signing Ceremony for Strategic Cooperation Projects" to discuss new materials and technologies such as integrated die casting, lightweight design of body structure, and heat-free structural parts in the automobile manufacturing industry, and strategically build an industrial innovation cooperation ecosystem.
The event adopts a combination of online and offline methods. Guests attending the event include Huo Congmin, Deputy General Manager of Great Wall Motor Technology Center, Zhang Dehui, Chairman of Seiko Motor, Bai Yanpeng, Vice President, Lu Deyu, General Manager of Seiko Die Casting, and doctoral tutor of Tsinghua University School of Materials, Professor Xiong Shoumei, Deputy Director of the Key Laboratory of Advanced Forming Manufacturing of the Ministry of Education, Ren Sailiang, Chairman of Ningbo Severda Machinery Co., Ltd., Du Yongli, President of Longda Aluminum Co., Ltd., Zhang Wei, Deputy General Manager of Beijing Shichuang Technology Co., Ltd., and Liu Zhuoming, CEO of LK Group Mr. Zhang Jun, general manager of Ningbo LK Technology Co., Ltd. (Ningbo LK Technology).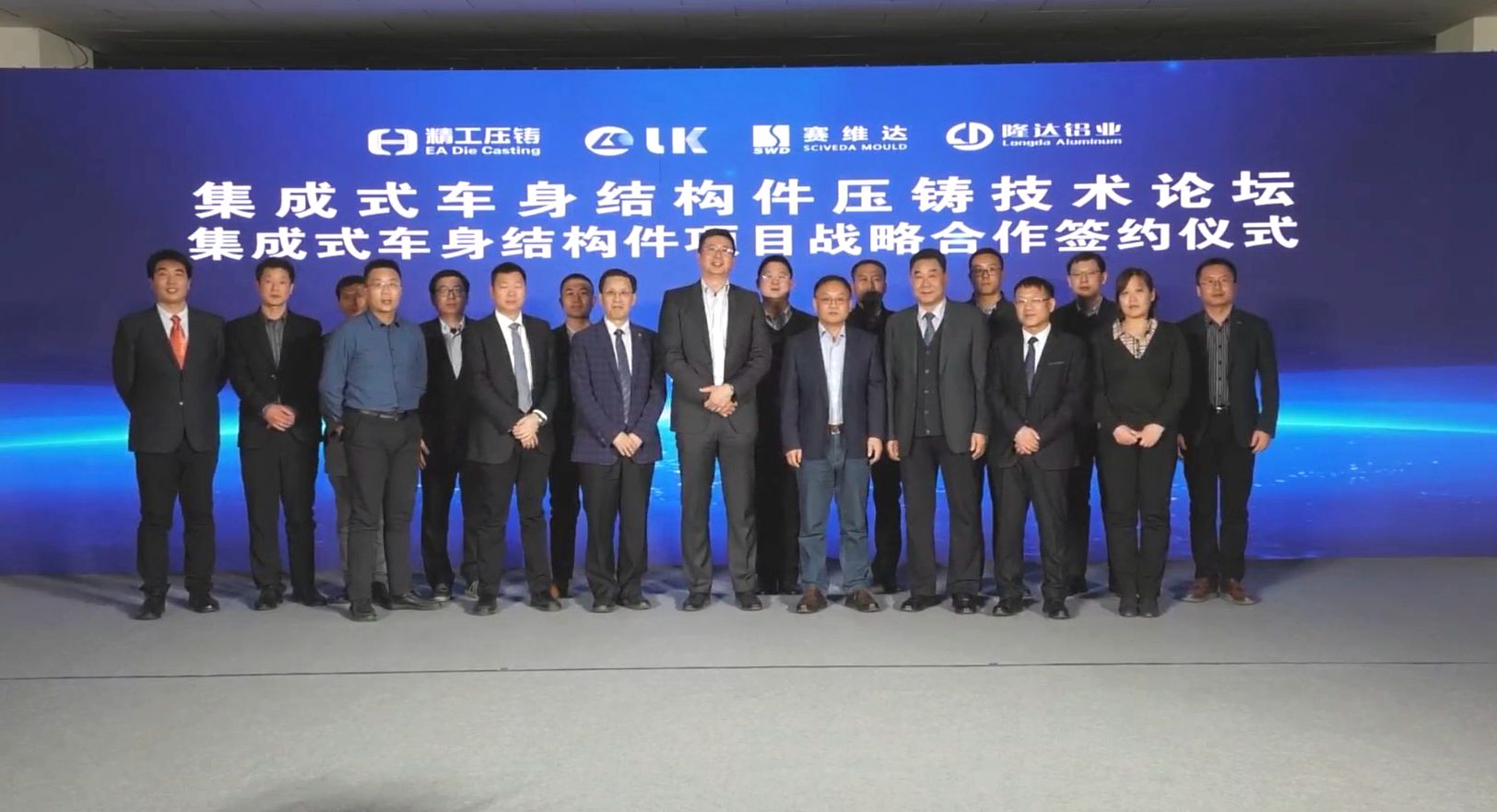 Lu Deyu, General Manager of Seiko Die Casting, delivered an opening speech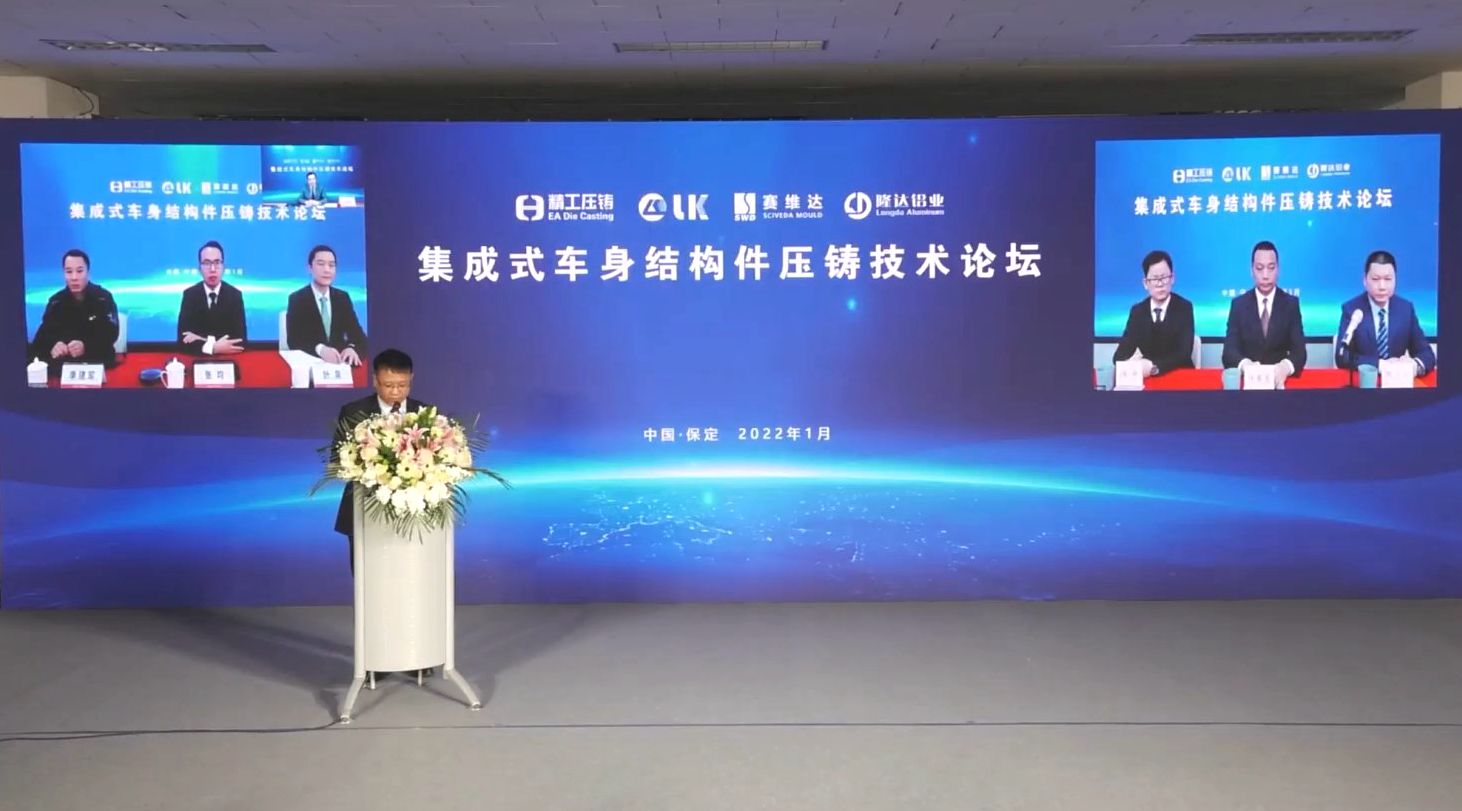 LK Group Keynote Speech: LK Technology Large Die Casting Unit
The integrated body structure is designed to promote the lightweight of the body. The large-scale production of body structure requires the technical support and verification of large-scale die-casting equipment, molds, die-casting aluminum materials, simulation software, OEMs and other software and hardware infrastructure companies.
At the Integrated Body Structural Die Casting Technology Forum, experts and R&D engineers from OEMs, universities, and enterprises in the die casting industry, such as Great Wall Motor, Tsinghua University, Sevida, Longda Aluminum, Shichuang Technology, and LK Group, discussed their respective Research areas, technical expertise, etc., and delivered keynote speeches.
Li Jianjun, Technical Director of Ningbo LK Technology, focused on the situation of LK Technology's large die-casting unit.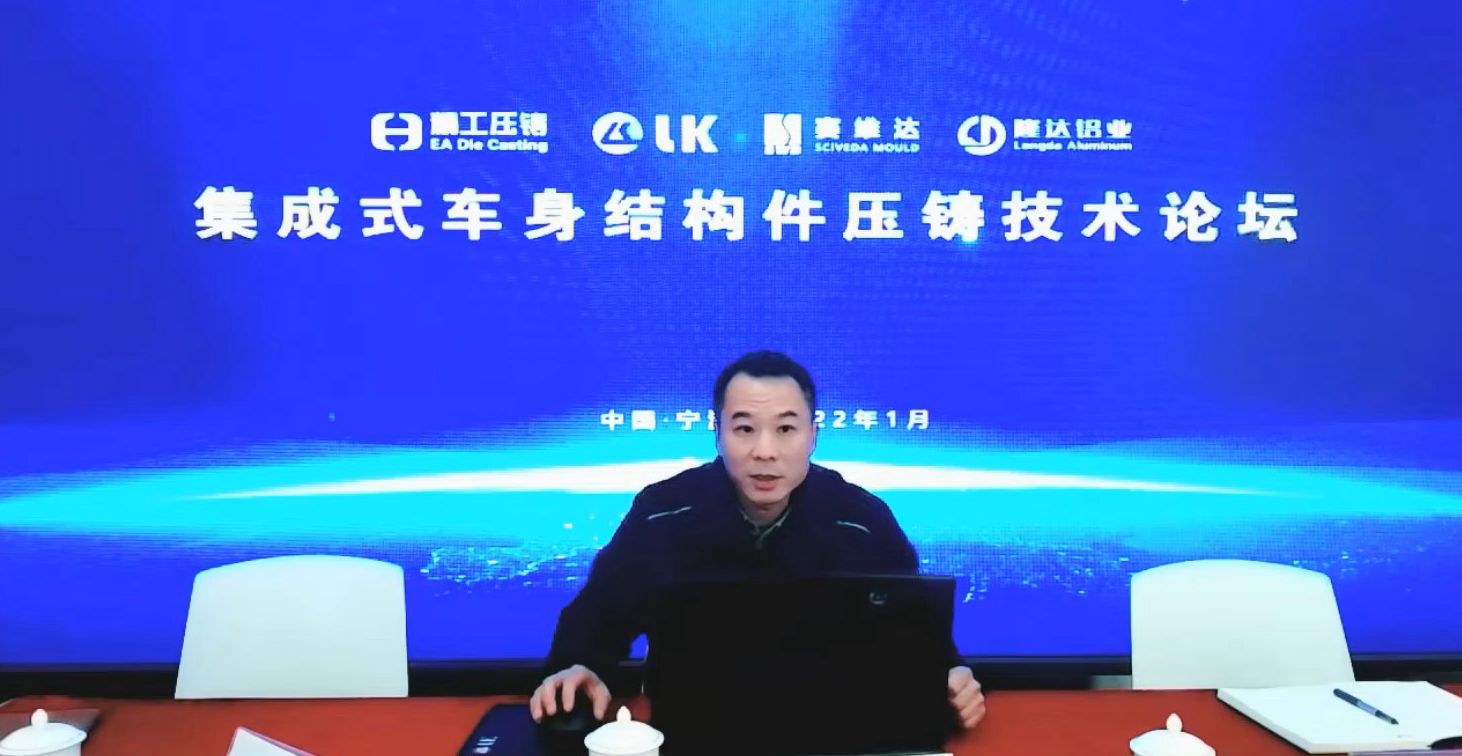 LK 6000T-9000T super-large intelligent die-casting units have been applied in many scenarios in the manufacture of large structural parts such as the front, middle and rear underbody of vehicle.
LK's high-efficiency, full-process, and intelligent die-casting solutions include automatic soup feeding, intelligent injection system, high-efficiency spraying, high-efficiency pouring and drain removal, and integrated control system of mold temperature machine. The integrated and large-scale die-casting production will be expanded to the integrated manufacturing field of the upper and lower overall structure of the body in the future.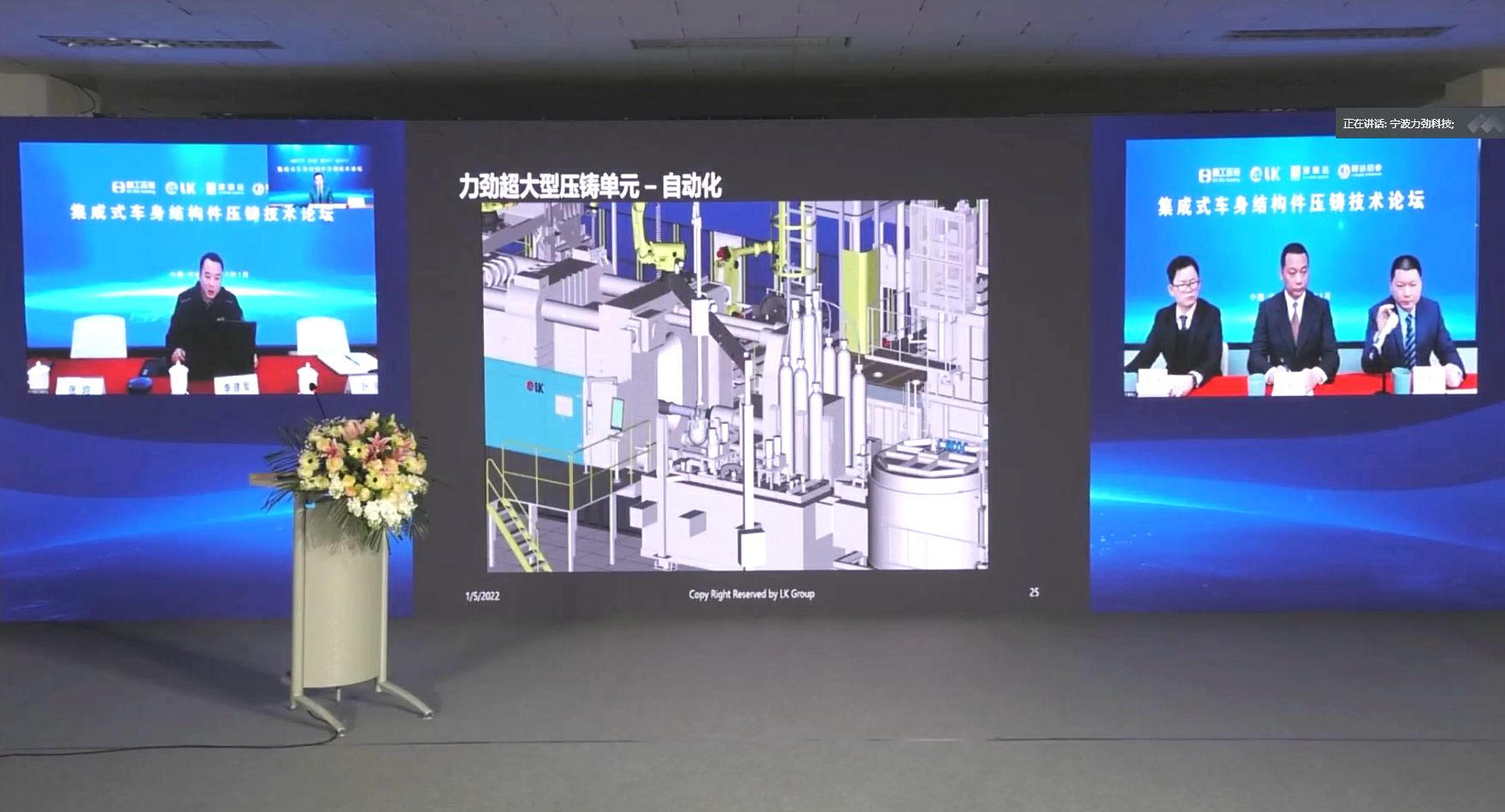 Zhang Jun, General Manager of Ningbo LK Technology, was a guest at the salon meeting-Expert Interview
Huo Congmin, Deputy General Manager of Great Wall Motor Technology Center, Lu Deyu, General Manager of Seiko Die Casting, Professor Xiong Shoumei from the School of Materials Science and Technology of Tsinghua University, Guo Junhui, Executive Vice President of Longda Aluminum, Ren Sailiang, Chairman of Severda, and Zhang Jun, General Manager of Ningbo LK Technology attended the event.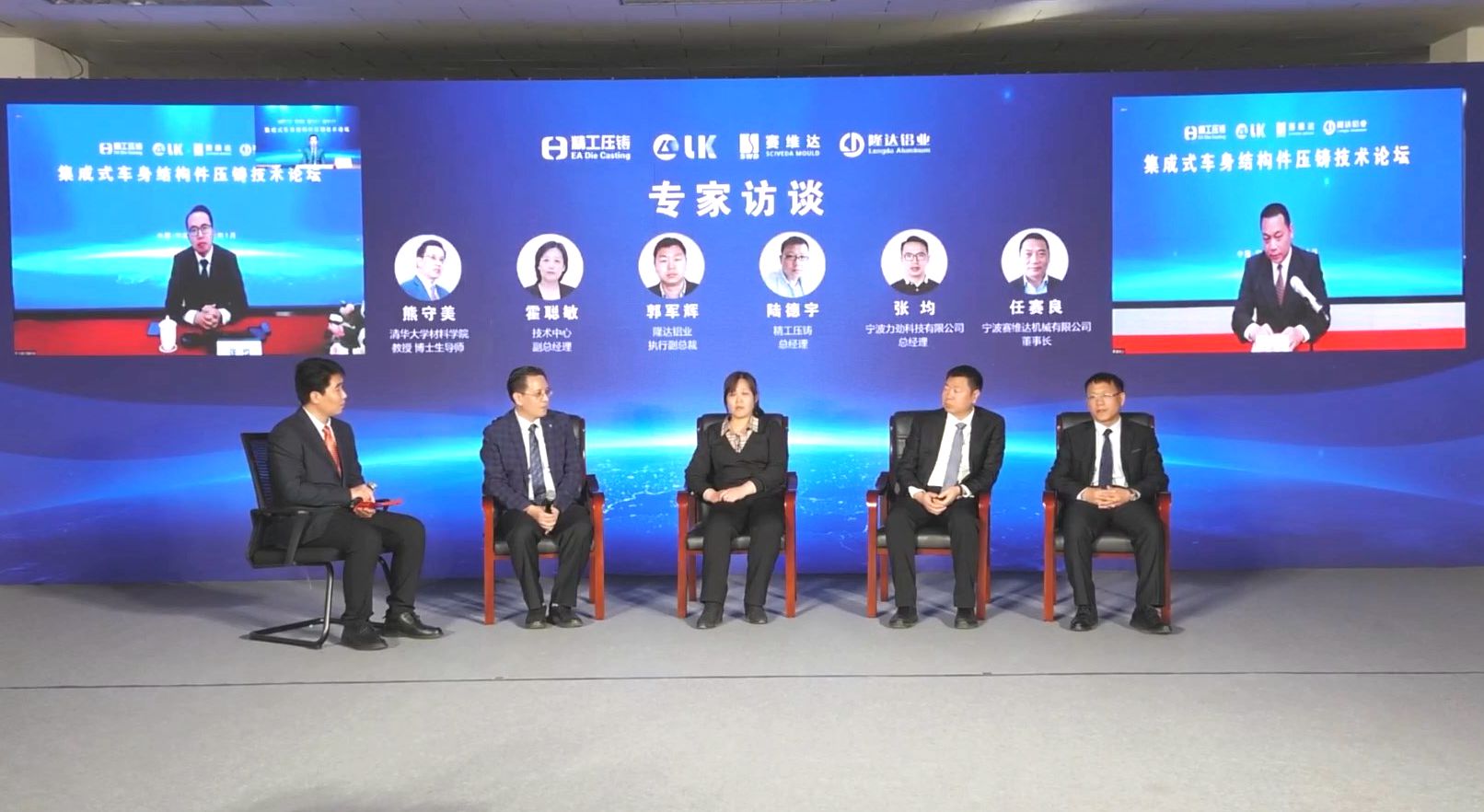 General Manager Zhang Jun said that the current automobile industry is undergoing major changes unseen in a century. Large-scale die-casting machines, lightweight manufacturing of new energy vehicles, and integrated die-casting of automotive structural parts are becoming development trends. As a die-casting equipment manufacturer, LK Group has been participating in the transformation and development of China's die-casting machine manufacturing technology, and is committed to reducing costs, improving product quality and achieving career success for manufacturing companies.
The guests also discussed and communicated on the application of die-casting technology for auto body parts, the research and development of aluminum alloy materials, the lightweight manufacturing of body, and the planning of precision die-casting in the field of new energy vehicles and body die-casting structural parts.

Seiko die-casting structural parts strategic planning and project progress
Li Hua, the project director of Seiko Die Casting, took various new energy vehicles on the market as examples, compared and displayed the research data on the traditional manufacturing process of automobile structural parts and the characteristics of the integrated die casting process, and introduced the Seiko die casting aluminum alloy. The technical iterative roadmap for structural parts from 2019 to 2023.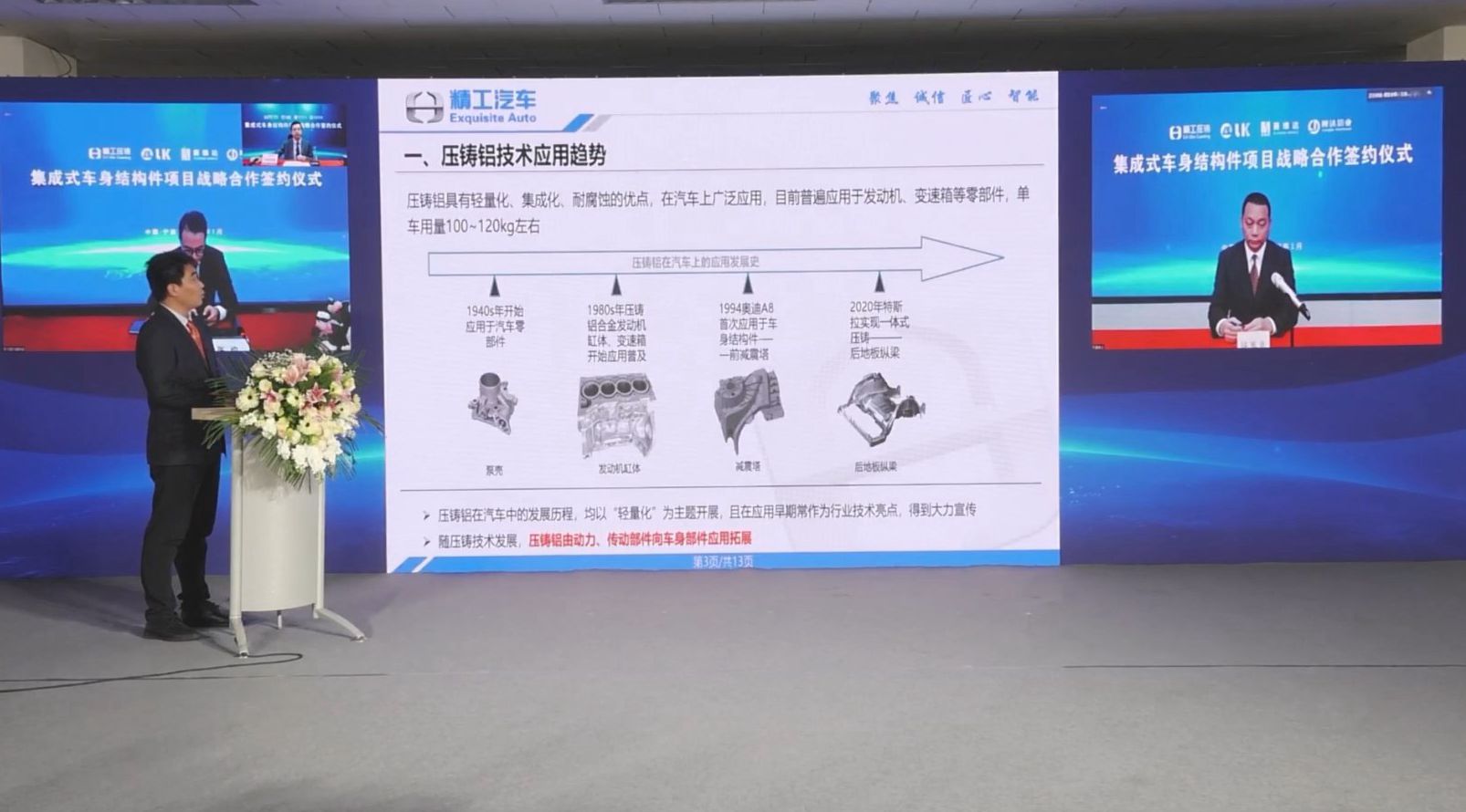 Director Li Hua pointed out that the integrated die-casting technology has advantages in reducing weight, simplifying the production process and reducing labor, and has broad application prospects.
"Compared with the all-steel body, the one-piece die-casting rear floor reduces the weight by 21.5kg, and the weight reduction effect is 24.6%; compared with the previous lower body steel-aluminum hybrid structure connection, the one-piece die-casting rear floor eliminates dissimilar connections, simplifies the connection process, and improves the The automation rate and production efficiency are improved; compared with the personnel allocation of the sheet metal process and the integrated die-casting process, with an annual production capacity of 120,000, after the application of the integrated die-casting process, the number of personnel in the entire chain has been reduced from 125 to 48, a decrease of 62%. "

Signing Ceremony for Integrated Body Structure Project
Seiko Die Casting and Ningbo LK Technology, Severda and Longda Aluminum respectively signed a strategic cooperation agreement on the integrated body structure project, and cooperated in die-casting equipment, molds and materials to form a strong integration on the track of integrated body structure manufacturing. industry alliance.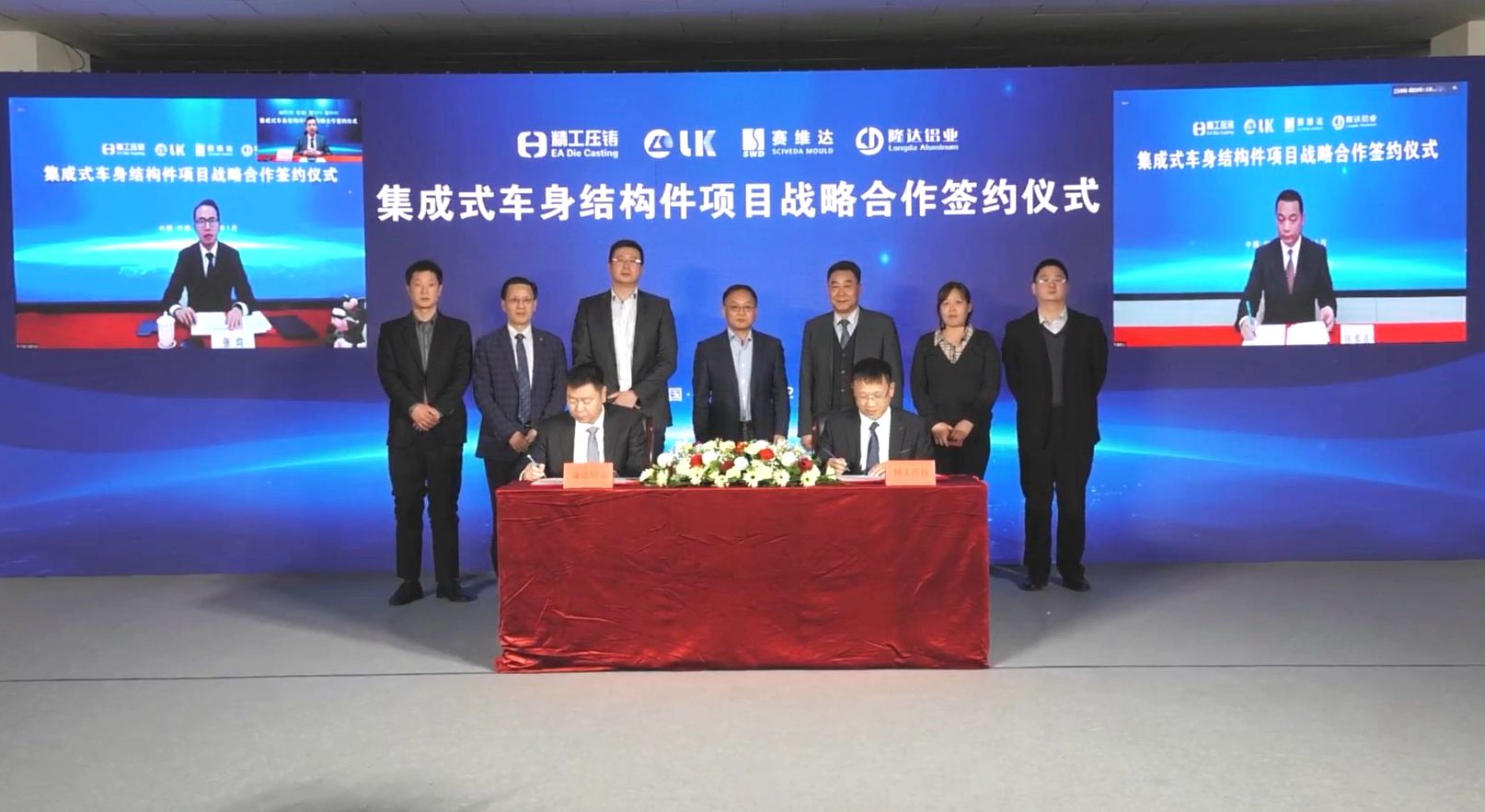 Zhang Dehui, Chairman of Seiko Motors, made a concluding speech
Chairman Zhang Dehui said that the "new four modernizations" - electrification, intelligence, networking, and lightweighting are profoundly changing the product form, technical structure, manufacturing process, and the entire industrial and value chain of traditional automobiles, and will become the future The development direction of the car.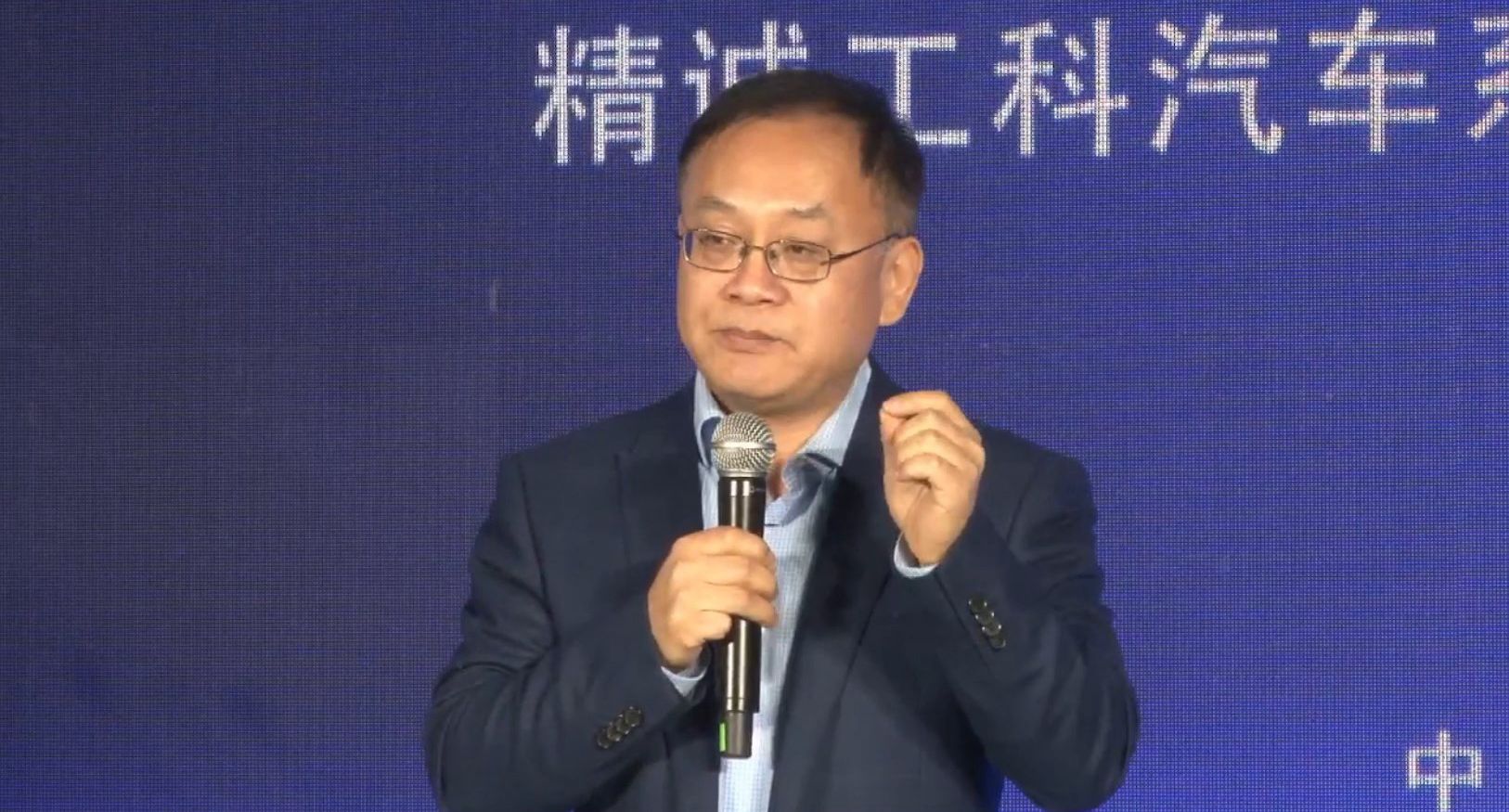 "The strategic cooperation between Seiko Die Casting and LK will definitely play a positive role in promoting the development of domestic integrated aluminum alloy body structures. We will use our expertise and advantages in our respective fields to cooperate sincerely, achieve mutual benefit and win-win results, and realize the project. The efficient collaboration will make our cooperation a benchmark and model in the aluminum alloy casting industry."
Mr. Liu Zhuoming, CEO of LK Group, delivered a speech on strategic cooperation
Mr. Liu Zhuoming said that with the "dual carbon" plan and the rapid development of the future industry, my country's new energy vehicle industry has entered a stage of rapid growth, and the die-casting equipment industry has ushered in a new era of development.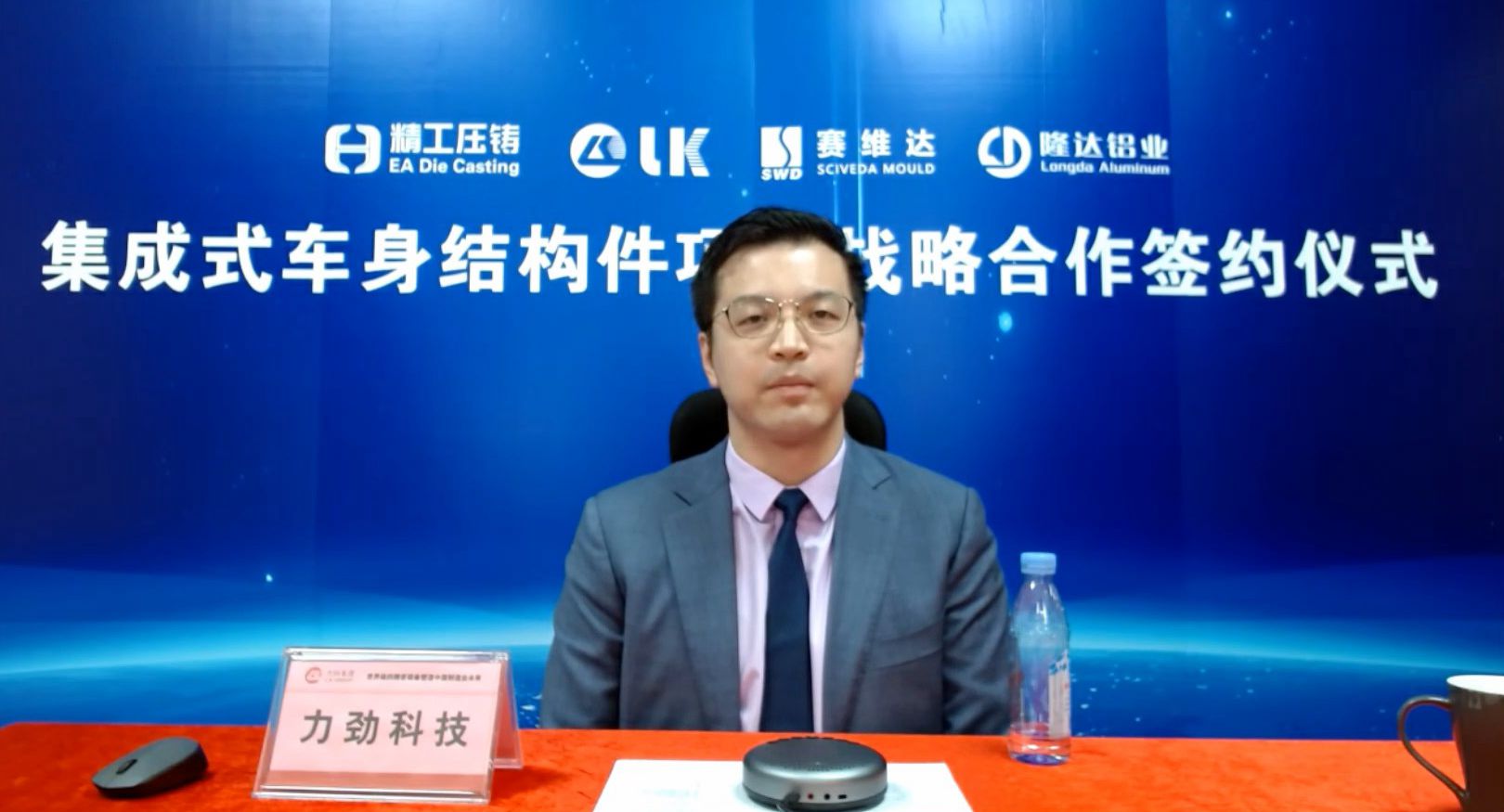 "Seiko Die Casting is a world-renowned and diversified auto parts manufacturer. Working hand in hand with Seiko Die Casting, we are committed to the integrated manufacturing of super-large automotive structural parts to achieve a win-win situation. We hope that the 8000T intelligent die-casting equipment provided by LK will be able to To help Seiko die-casting succeed in the integrated manufacturing of large and heavy-duty automotive components, and to bring impetus to the development of the changing automotive industry. LK Group will also be equipped with an excellent technical service team to provide high-quality and efficient technical support for Seiko die-casting Service, to ensure the smooth commissioning of the project and production!"
As the mainstay of the national manufacturing system, the industrial chain and economic chain surrounding the automobile manufacturing industry are constantly being upgraded and improved.
In the future, LK Group will continue to vigorously develop and manufacture intelligent equipment such as die-casting units with advanced technology and excellent performance to meet the needs of technological transformation and upgrading of enterprises in the automobile manufacturing industry chain, and work with partners to jointly promote the high-quality development of China's automobile manufacturing industry.