LK celebrated the launch of Jianghuai foundry's 80,000 sets die-casting cylinder
From: 2018-10-15 To: 2018-10-15
Region: China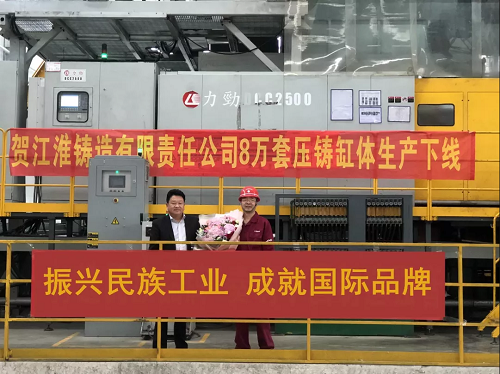 Revitalizing national industry and achieving international brand, LK celebrated the launch of Jianghuai foundry's 80,000 sets die-casting cylinder production line
On October 15, LK Group was invited to participate in the off-line ceremony of 80,000 sets of aluminum alloy die-casting cylinders held by Jianghuai Foundry Co., Ltd. Wang Yue, director of the cast aluminum project of the engineering institute, and Zhang Ying, the key customer director of LK Group, attended the ceremony.
At the ceremony, Zhang Yingxin expressed his sincere congratulations to Jianghuai on behalf of LK Group and expressed his wishes with flowers.
As an integrated manufacturer of die casting machines and their peripheral automation systems, LK Group and Jianghuai Foundry have always maintained long-term friendly cooperative relations and are committed to providing excellent aluminum alloy engine die-casting solutions for Jianghuai Casting. Through the use of force-strength die-casting technology, the engine cylinder qualification rate of Jianghuai Foundry has reached 98%, and the design and construction of each system assembly have reached the advanced level at home and abroad.
"We should take 80,000 as a new starting point, continue to do a good job, improve the quality of our products, continuously improve the manufacturing level, and strive to make the aluminum alloy cylinders into the company's special products." Jiang Huai found Pan Xiufeng on behalf of the speech.
Jianghuai Foundry Co., Ltd. is a holding subsidiary of Anhui Jianghuai Automobile Group Co., Ltd. It is a specialized foundry that integrates research and development, production, processing, sales and service of castings. In the more than two years of 2016-2018, the company's die-casting aluminum alloy project has grown from scratch, from trial production to mass production, from the first downline to 80,000 units, and achieved outstanding results.
As a die-casting machine and system integration manufacturer, LK Group adheres to the business philosophy of always striving to the customer's success, customized service, and grow together with customers.