LK received ListCo Excellence Awards
From: 2018-10-09 To: 2018-10-09
Region: China Hong Kong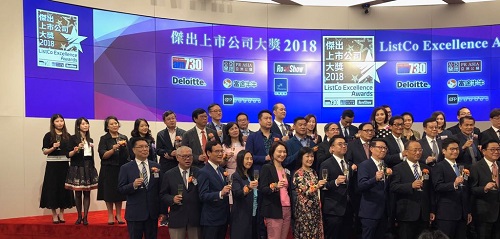 LK Group won the "ListCo Excellence Awards" sponsored by Hong Kong AM730, RoadShow and Asia Public Relations. The awards are recognized by professional judges for listed companies with outstanding market performance, industry status to encourage the company to contribute more to society. The judging panel includes Deloitte Deloitte, Futu Niu Niu, Yun Feng Finance, fund managers, senior stock evaluators and stock analysts. The selection process first adopts the professional information data selection system of Futu Niu Niu to select the list of qualified listed companies; then it is evaluated by Yunfeng Finance, fund managers, senior stock evaluators and stock analysts, and by Deloitte. Deloitte conducts data review. This "Outstanding Listed Company Award" is the only China-Hong Kong cross-platform financial media award. The winners of the same period include Sun Hung Kai Properties, Shen Chau International, DCH, CITIC Resources, China Natural Gas, China Zhongwang, Shui On Real Estate and so on.
Liu Yingying, Chairman Assistant of LK Group, attended the award
For the past 40 years, LK Group has been customer-oriented, with professional craftsmanship and rich industry experience, to provide customers with efficient and reliable production solutions for die-casting machines, injection molding machines and CNC machining centers to support the industrial development of the global market. In the future, LK will closely follow the national development strategy of the Belt and Road, actively develop to the international market, and assist the national industrial upgrading with intelligent production technology to bring good returns to the society and investors. This time, the winner will definitely be more energetic in the overall performance of the market, and the future will be steadily moving forward.
News Highlight