Highlights in Chinaplas 2018
From: 2018-04-24 To: 2018-04-27
Region: China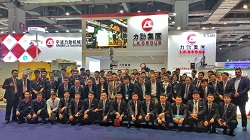 The 2018 Chinaplas has closed it curtain after 4 days of exhibition in Shanghai. With total exhibiting area in 320,000 sqm, it has welcomed approximately 180,000 professional audience and 26.61% of them are oveseas visitors. The Chinaplas record has been renewed in each categories.
In this exhibition, LK Group has focused on the theme of "Smart Injection" and "Environmental protection Technology". We has displayed 4 plastic molding injection machines with Serve energy serving porducing dual-color bowl and plastic containers. It shows the innovations and quality of our products and win the hearts of the audience.
By following the age of globalization and Industry 4.0, the manufacturing industry has require better stability, efficiency, environment proection for their advanced production equipment. LK Group are devoted to making intelligent and efficient manufacturing machine, maximizing the interest of our clients.
Every encounter means a chance to grow. We look forward to seeing you in Guangzhou soon!