Hong Kong Student Exchange Tour to Anhui Province
From: 2016-07-30 To: 2016-07-30
Region: China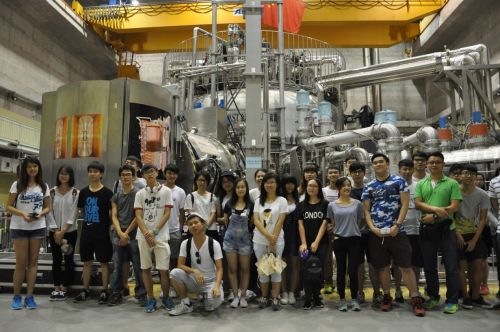 Hong Kong Student Exchange Tour to Anhui Province
Students from Hong Kong Polytechnic University (PolyU), Institute of Vocational Education (IVE), The Chinese Manufacturers' Association of Hong Kong Secondary School (CMASS) embarked on a 6-day exchange tour to Anhui and Zhejiang province of China. This tour was initiated by L.K. Machinery International Limited and organized by Hong Kong and Macao Affairs Office of Anhui Provincial People's Government (HMO) to explore the rich culture and history of Anhui Province and the technological developments in the cities of Hefei and Wuhu.
Students has visited several companies famous of scientific research in Hefei including the Institute of Physical Science to see the Experimental Advanced Superconducting Tokamak (EAST) that could heat up Hydrogen atoms to plasma state to create fusion energy; USTC iFlytek Co., maker of voice recognition application for mobile, education, communication, music, and intelligent toys; Sunwin Intelligence Co, Ltd., maker of drones and transportation equipment and Effort Intelligent Equipment Co., Ltd, maker of industrial robotic arms.
One of the events in the tour was a student exchange session in Anhui University. Students from Hong Kong and Anhui shared their studies and academic achievements to gain an in depth perspective in the education curriculum and participation in the society of both regions. Afterwards the students exchanged performances and engaged in recreational match to make acquaintances with their new peers.
One of the highlights of the tour was the visit to Huangshan, one of China's famous tourist attraction. The trek up to the mountain in the cable car was an experience to remember with the mesmerizing scenery and thrilling ride of the steep incline and the view to the ground. At the summit, the fresh air and cool temperature was greatly welcomed and the breathtaking cliffs with pine trees was much more extraordinary than many Chinese landscape painting depicting the many sceneries of Huangshan.
The last city of the tour was in Ningbo where the students visited the manufacturing facilities of L.K. Machinery producing die casting machines and injection moulding machines, and also the final assembly line of Geely Auto. The students were met by the founder of L.K. Machinery, Mr. Liu Siong Song, to discuss about career and entrepreneurship opportunities and prospects in both Hong Kong and China.
Students are able to learn the cultural history and industrial development of China through the tour in order to explore the opportunities on career development. Students were encouraged to visit and develop outside Hong Kong to pursue more opportunities and facilitate the cultural exchange of Hong Kong and China.