Visits from Vice President Liu Wenqiang of CCID
From: 2019-01-12 To: 2019-01-12
Region: China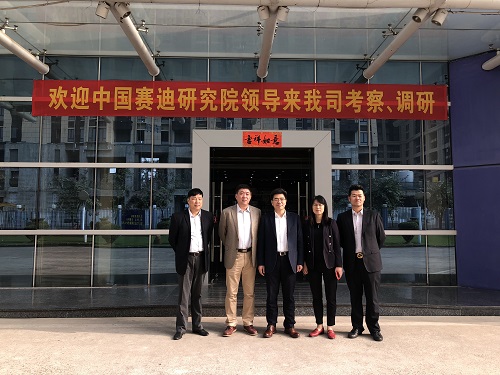 On January 12th, Liu Wen qiang, Vice President of China Electronics and Information Industry Development Research Institute (CCID Group) visited LK Shenzhen Production Base for investigation and research. Ms. Pan Lingling, General Manager of Shenzhen Lingwei Technology Co., Ltd., and Mr. Xu Niansheng, Director of Group Technology Development Center, accompanied the company.
Mr. Xu Nian sheng gave the guests the theme report entitled "The Growth Path of a Chinese Invisible Champion Enterprise – The Road to the Growth of LK Group", introducing the development path and precipitation of LK since its establishment in 1979. The results of the three-level protection barriers in product R&D innovation, lean production and quality control, customer system construction and operation, and independent intellectual property rights are planned and planned in the future.
He said that LK has created a two-dimensional ten-system system and application results in the development of brand management. By undertaking the national "Tenth Five-Year Plan", "Eleventh Five-Year Plan", "Twelfth Five-Year Plan" and "Thirteen-Five-Year Plan" technology support plan and intelligent special projects, DCC1600 cold room magnesium alloy die-casting machine and DCC3000 digital die-casting unit were realized in different periods. The industrialization of high-performance products such as DCC4000 intelligent die-casting island has broken the monopoly of foreign markets and realized the import substitution of domestic equipment. LK has always focused on equipment R&D and manufacturing. It has developed from the spring of China's reform and opening up, from single product to brand, to industry standards. In the future, LK will continue to work on the development of China's equipment manufacturing industry along the direction of "Made in China 2025".
Ms. Pan Ling ling made a supplementary explanation on the company's development data and performance, and led the guests to visit the factory.
Liu Wen qiang, deputy dean, said that LK Group's contribution to the industry standardization work is outstanding. The development path of the enterprise is distinctive and has reference value. The founder of the smart-type enterprise, Mr. Liu Xiang shang, has a distinct personality and deserves respect. He hopes to be more precise in the future.
China Electronic Information Industry Development Research Institute (CCID Group) is a type of scientific research institution directly under the Ministry of Industry and Information Technology. It is committed to providing research, consulting, technology research and development services to governments, enterprises and society. The visit was strong and the two sides achieved good exchange results.