LK's visit to Ruiming
From: 2018-06-16 To: 2018-06-16
Region: China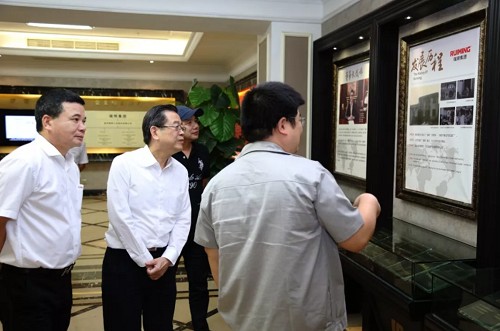 On June 16th, Liu Xiangshang, founder of LK Group, Deng Yiming, South China Marketing Director, and others visited Wenzhou Ruiming Group to discuss the future development strategy with Hanming Ruiming, Chairman of Ruiming Group and its management team.
Mr. Liu Xiangshang and his party, accompanied by Chairman Han Yuming, visited the Ruiming Group Corporate Culture Exhibition Hall, the State-level Enterprise Technology Center, the wisdom machine processing factory, and the equipment factory. They learned and studied the development history, industrial layout, and technology research and development of the Ruiming Group.
In the subsequent talks, the two sides deepened their understanding of each other and conducted in-depth talks on the future cooperation model and strategic layout. Mr. Liu Xiangshang introduced the latest technological innovation of LK Group and the matching equipment that best fits the development plan of Ruiming Group. Chairman Han Yuming stated that the cooperation between Ruiming and LK has been long-standing. The two sides have broad areas of cooperation, complementary points, and multiple modes. The next step is to hope both parties will establish a long-term communication mechanism and accelerate the strategic cooperation in the die-casting field.
Founded in 1995, Ruiming Group is a company specializing in the production, sales and technology development of aluminum parts products. Its leading product is the largest scale of automotive engine aluminum parts production. It is a state-level auto parts export base company and a national foundry industry, Comprehensive strength of the top 100 enterprises and the National Torch Plan key high-tech enterprises.