2016 North American Die Casting Association
From: 2016-05-04 To: 2016-05-06
Region: United States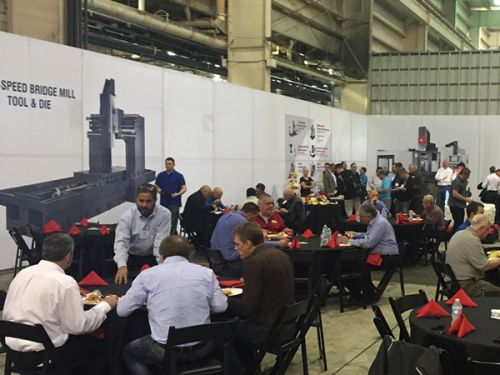 Grand opening of 2016 factory management conference held by The North American Die Casting Association(NADCA), and visiting LK / SAPP High-tech Foundry Technology Center.
The conference was held by NADCA from 4th-6th May 2016.The factory management conference provides opportunities in business interaction and discussion for those who in the die-casting industry. They participate through from a in-depth group discussions to individual keynote speech, topic related to analysis in product innovation while improving product integrity, improve the quality control process, reduce production and management costs, improve accurate productivity, thereby to integrate the development of the Die-Casting industries.
Highlight of the meeting was visiting the die-casting plant of General Motor in Bedford (Ohio City) on 6th May. To showcase the advance equipment in production workshop, with 21 set of LK DCC3000 to equip with fully automatic peripherals.
In same day afternoon, went to visiting the Advance Casting Technology Center (ACT) in Edinburgh, Indiana. LK / SAPP advance casting technology center was founded in 2015 and is a collaborative project between LK and SAPP, which aims to provide a platform for developing of high end Die-Casting technology in this industry. ACT currently has a running LK DCC4000 ton with automatic peripherals, to produce aluminum alloy structural components for a well-known electrical vehicle manufacturer.
For more information, please feel free to visit the NADCA meeting agenda at the following URL or click to read the original. http://www.diecasting.org/wcm/Meetings/Plant_Management/PM_Agenda/wcm/Meetings/PM_Agenda.aspx?hkey=13e89c71-1468-4b79-8fae-0806b7664a2b