LK USA brought astonishing show to SoCal SPE Section
From: 2017-06-03 To: 2017-06-03
Region: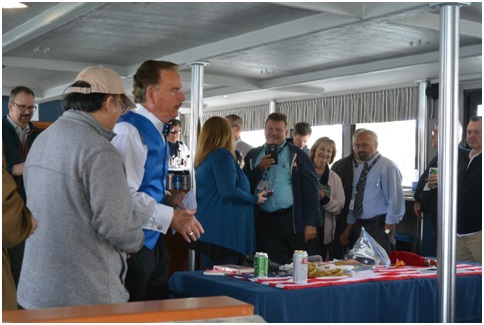 The Society of Plastics Engineers (SPE) hosted their 75th annual ANTEC conference in Anaheim, CA from May 8th-10th. ANTEC is the largest, most respected and well known technical conference in the plastics industry. The annual conference includes technical and business presentations on new and technologies, panels, tutorials, networking events, and student functions—all providing attendees with face-to-face interaction with expert representatives from the largest industry segments. The conference hosted 70 exhibitors, over 550 presentations and numerous networking opportunities.
On May 6th, LK Systems, Inc. President& CEO, Michael L. Smith, performed magic for the ANTEC Board of Directors and industry colleagues. The two hour boat cruise departed Newport Beach Harbor with 140 guests. LK Systems, Inc. had the opportunity to invite 100 attendees as Michael donated his time and talent to the event. Invited attendees included members from Berry Global, Cambro Manufacturing, Tesla, Pelican, Mack Molding, UPM, Carl Olson, iGPS and Medway Technologies. Michael established an LK presence at the event through his contributions and attendance for the national SPE board members. Outgoing SPE President Wim De Vos, and incoming SPE President Dr. Raed Al-Zu'bi thanked LK Systems for their generous support of SPE activities through Michael's participation and direction at both the local and national levels.
The SoCal SPE President's Message on the events are as follows:
The ANTEC 2017 was held in Anaheim Hilton last week and our SoCal SPE Section was making all-out effort to welcome SPE delegation and council members. We've had a pleasant time and excellent opportunity to meet high ranking plastics professionals along with CEO Wim De Voss on a boat
cruise in Newport Bay on the Saturday before ANTEC. We would like to thank our sponsors, Prestige, Horn, Alba, Borche, ID Additives, Marman, LK Systems, Modified Plastics, whose generous support help make this event possible. Special thanks to Michael Smith for entertaining everyone with his world class magic act, truly astonishing!