Highlights in 2018 Metallurgy Russia
From: 2018-05-29 To: 2018-06-01
Region: Russia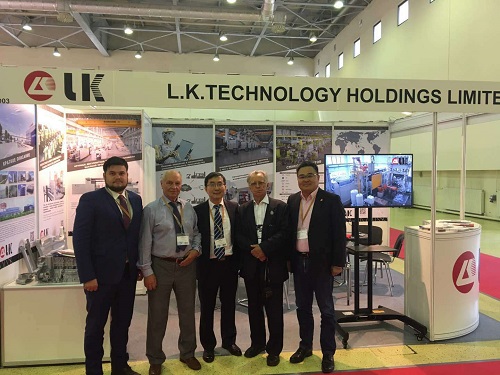 LK's first show has been highly recognized by the leaders of the Russian Association
On June 1st, the 2018 Metallurgy Russia was successfully concluded in Moscow. This was the first appearance of the LK Group in Russia.
As one of the few exhibitors from China, the booth of LK has received a lot of attention. Leaders of the Russian Foundry Association and the Federation of Machinery Manufacturing all visited the booth of LK. The staff introduced the comprehensive flexibility to the company. The solution is to demonstrate the various types of castings produced by the smart mechanical equipment of LK, which have been unanimously recognized and highly evaluated by the leaders of the association.
With the continuous implementation of the China-made 2025 strategy, intelligence and wisdom have made significant achievements. China is taking a solid step toward becoming a powerful country. Under the backdrop of the "One Belt, One Road" construction and the cooperation and cooperation of the Eurasian Economic Union, the relevant enterprises of the two countries have actively participated in the cooperation. The strategic cooperation between the two sides in energy, aviation, aerospace, infrastructure and other fields is expected to be achieved this year. More progress has strengthened the foundation for strategic mutual trust between the two parties.