Building strategic business partnerships with Ruili Group and National Engineering Research Center
From: 2021-04-26 To: 2021-04-26
Region: China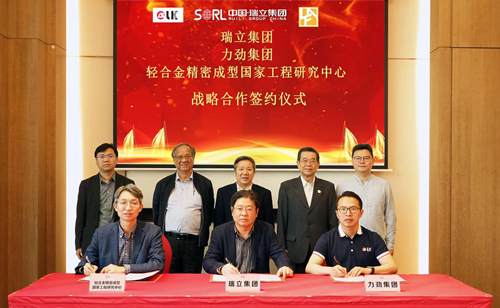 With the rapid development of lightweight vehicles, new energy vehicles, and 5G communication, there has been a significant increase in demand for Giga Press die-casting solutions for the production of that.
Recently, LK Group, Ruili Group, and National Engineering Research Center for Light Alloy Precision Forming signed a strategic cooperation agreement to jointly establish a technology innovation platform for Giga Press die castings production, to promote the prosperity and growth of the industry
The contracting parties will give full play to their respective advantages, technical support, and information sharing to provide customers with overall solutions for the needs, and are committed to the realization of customer value.
Academician Ding Wenjiang and Professor Peng Liming of Shanghai Jiaotong University, Zhang Xiaoping, Chairman of Ruili Group and Qu Daoli, Deputy General Manager, Mr. Liu Siong Song, Founder of LK Group, and Zhang Jun, General Manager of Ningbo LK Technology Co., Ltd. attended the signing ceremony.