Happy Chinese New Year! 2021, LK is always with you!
From: 2021-02-09 To: 2021-02-26
Region: China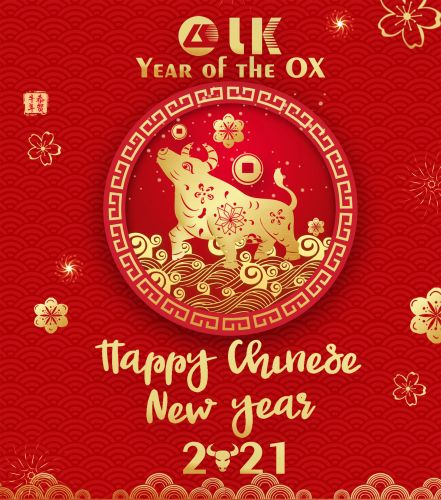 The Ox is a very valued animal in Chinese custom for strength, contribution to farming work, and transporting of goods. Ox is well known to be hard-working, intelligent, reliable, and disciplined. In 2021, you can expect to feel the full weight of our responsibilities. Good attempts may not be enough, double the input because this year won't be as comfortable as the last few years. But with hard work and positive energy, your efforts will not be wasted. Those who focus on accomplishment and give considerable efforts will be rewarded.
We wish you Great Health, Good Fortune, Smooth Success, Business Growth, Prosperity, Glorious Gains, and Unlimited Luck for 2021.
Thank you for your support and trust in LK.
This year will continue to bring you the latest technology and machine. We look forward to being of service to you again and creating a successful year together.
Happy Chinese New Year!
All the best from the team at LK.