In the fields of carbon fiber composite materials, 5G communications, and environmental sanitation
From: 2020-11-24 To: 2020-11-27
Region: Shenzhen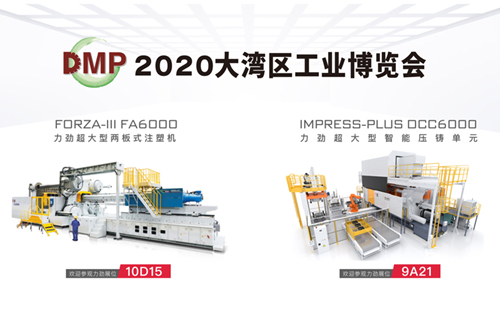 The 2020 DMP Greater Bay Area Industrial Expo will open at the Shenzhen International Convention and Exhibition Center (Shenzhen Baoan) on November 24.
LK Group will set up three booths in Hall 9 and Hall 10, with booth numbers 9A21, 10D15, and 10A31, to create efficient, stable and reliable quality for product production.

Booth No.: 10D15

5G Rubik's Cube router shell production unit

The 5G routers that will enter the millions of households are not only stylish in appearance, but also have certain requirements for internal structure and precision.
The POTENZA-Ⅲ 250 5G special injection molding machine accurately cuts into the injection molding production requirements of the Rubik's Cube router shell. It has a large modulus and mold opening stroke, which is suitable for the needs of deep cavity molds and automated production.
The specific melt barrel components enable the product to achieve a good color mixing effect; high-performance servo drive, nano infrared electric heating ring, environmental protection and energy saving; open industrial control system, can realize cloud injection molding network remote monitoring, and provide protection for intelligent production.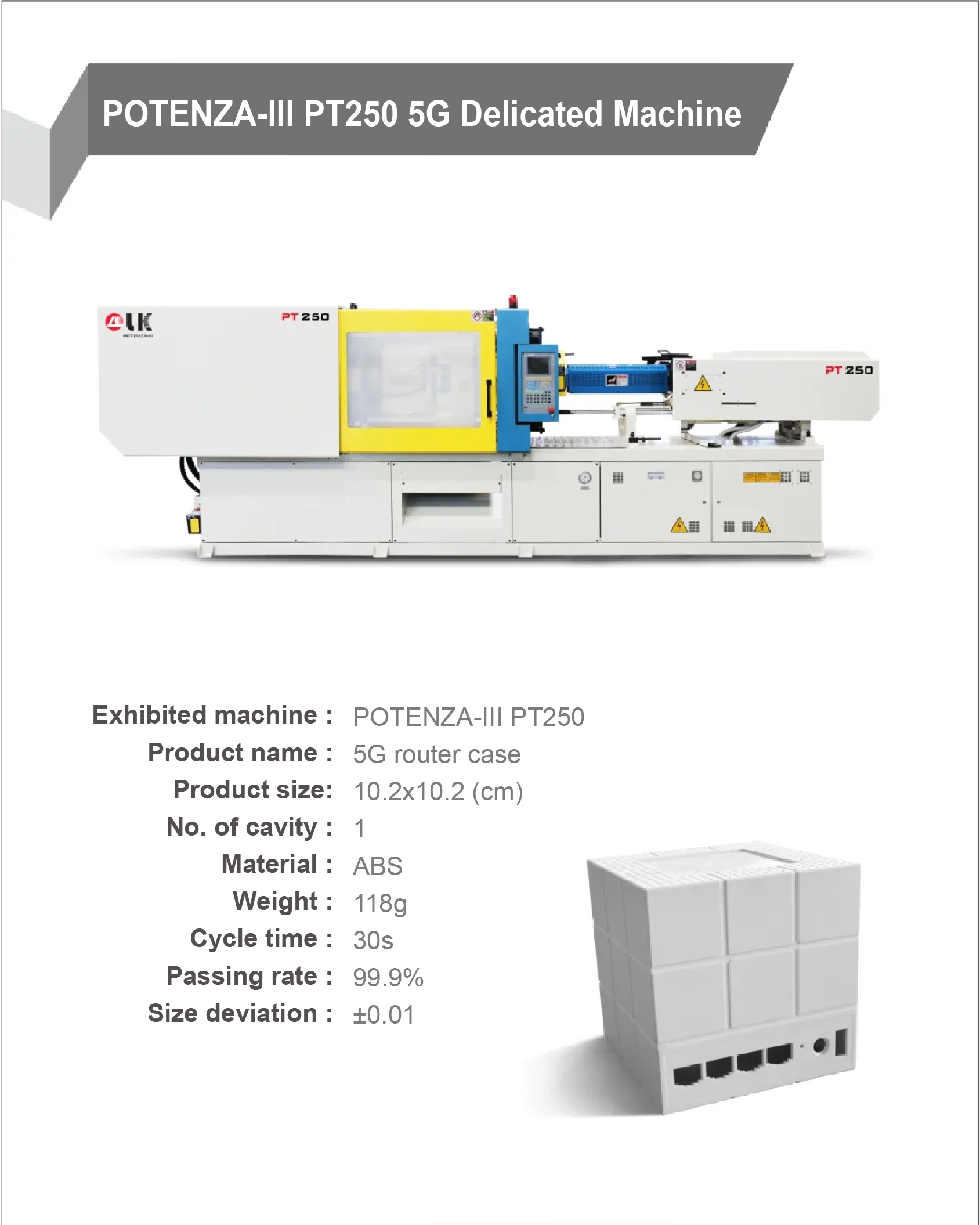 Production unit for injection molding products in the sanitation field
Injection molding products in the sanitation field require injection molding machines with large injection volume and injection pressure to meet the needs of deep cavity products, with high production efficiency and stable and reliable equipment.

Classified sanitation barrels are widely used products in large-scale transport material products, and the material fluidity is poor.

The FORZA series special injection molding machine adopts a professional plasticizing device, with strong power, efficient delivery of rubber materials, and good mixing function to ensure uniform product color and stable molding.
It has an excellent two-plate direct pressure mold clamping structure, the overall design of the model is simple and smooth, the structure is compact, and it has a large modulus and mold opening stroke to meet the production requirements of large deep cavity products.
Equipped with automated pick-up manipulators and processing devices to build a highly efficient and automated production system.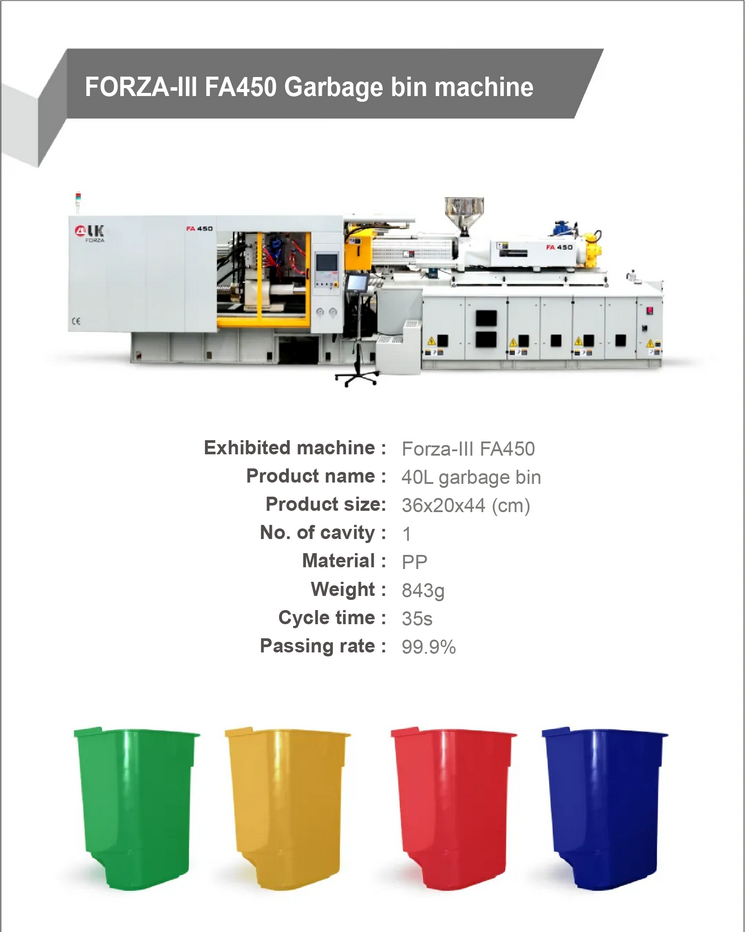 Booth No.: 10A31
Carbon fiber composite material in-mold one-time molding production unit
With the advantages of high strength, impact resistance, and light weight, carbon fiber composite materials are more and more widely used in auto parts and high-end sports goods.

POTENZA-Ⅲ PT130 servo energy-saving injection molding machine
Through the overmolding method, the finished product that originally required two independent processes is integrated into the combination of injection molding and hot pressing in the mold, effectively shortening the molding cycle and improving production efficiency.
The exhibition site will demonstrate the use of in-mold one-step molding process to produce carbon fiber composite car mirrors.