Chitwing Interview, the Era of 5G
From: 2020-07-02 To: 2020-07-02
Region: China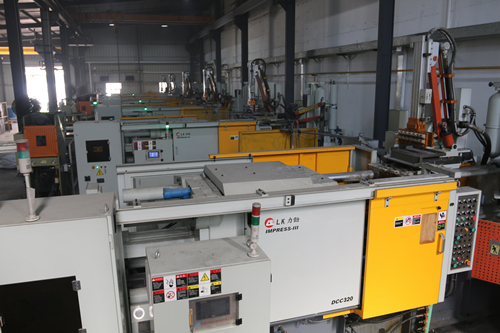 With the recent development trend of 5G smart phones, iPads and smart home appliances, ultra-thin and precise parts manufacturing would be much growth potential. Faster computational speed and production cycle time are crucial in the 3C industry (computer, communications, consumer electronics).
IMPRESS-S bringing die casting to the next level with shorter cycle time and response time
In response to the ever-changing market and intense competition, Chitwing mold making company has purchased 7 sets of LK IMPRESS-III DCC320 (Named IMPRESS-S), and equipped with auto ladler, extractor, sprayer robot, conveyor and trim press, etc to form a complete die casting cell. The cell is targeted for smartphone and tablet aluminum parts production and the supply chain and product quality can be ensured.
The supervisor at Chitwing mold making company said that, "We have always outsourced the manufacturing of smartphone frames. Three years ago we decided to set up our own die casting factory to manufacture on our own. Still the proportion of self-made parts were very small. As a result of the lead time and quality uncertainty, we decided to expand our production volume to better suit customers' needs."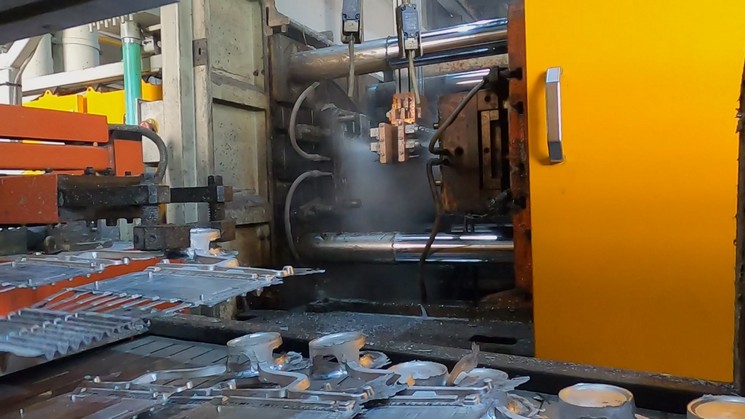 "Our company is a listed company on the Shenzhen stock exchange, covering the production of electronic parts such as smartphones, telecommunications devices and tablets. Our key customers include the tier 1 smartphone suppliers throughout the world. The equipment we have introduced are mainly from world famous brands. We were using die casting machines from Europe before and we have now also introduced LK die casting machines into our supply chain.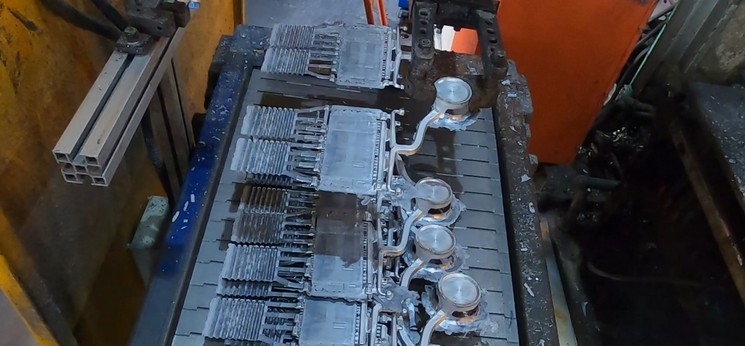 "LK has more than 40 years of experience producing die casting machines and the stability and reliability of the machines are world-class." Said the supervisor. "For the consideration of this purchase plan, besides the equipment quality, we are also focused on injection speed. The smartphone components that we make are thin-wall products with high rigidity, with an average thickness of 0.45mm, for certain areas it can even be 0.3mm. The IMPRESS-S DCC320 is suitable for our needs."
"The machines have been running smoothly for more than 6 months. They operate for 26 days, with a continuous 12hr/12hr shift. Each machine is capable of producing 10,000 pieces, meaning 2.5 million pieces can be made a year. The short cycle time (as low as 12.8s), high passing rate (>95%) and high injection speed are all important in creating such products. With the stability on par with European brands and a lower price, the ROI is considerably shorter. Those are a perfect match to customers' requirements."
"As a smartphone component supplier, the time requirements on products are very stringent. From product design, mold design and manufacturing, specifications confirmation and mass production, the time allowed is only 2 months. As a result, the supply chain from upstream to downstream would all need to have a quick response."
"I have heard the news about 7x24 quick responses and in place customer service from LK before. Since our purchase, we have seen detailed machine tonnage and technical support from LK engineers. The machines are running smoothly but the service team would still provide routine check-up services. The service center nearby provides an on-call service basis and that gives us great confidence in daily operation." Said the supervisor.
【About Chitwing】
Chitwing is a professional R&D, production and operation enterprises for precis components and molds. Chitwing was established in September 2007, and successfully listed on March 21,2007(stock code: 002855).
Technology brings advantage. Chitwing has multiple technologies supporting a wide range of business, including die-casting, stamping, deep drawing, laser process, CNC, injection of variable dimensions, spraying, surface treatment and assembly. The company now has more than 8000 employees and business has gone global.
LK IMPRESS-S -> One machine, two modes, high injection speed with low energy usage
IMPRESS-S has inherited the outstanding technical parameters from the IMPRESS series from LK, with an injection speed of >11 m/s with an acceleration of 60G.
Freely interchangeable between two production modes
Machine can switch between normal die casting mode and ultra-thin die casting mold, that would be suitable for different products.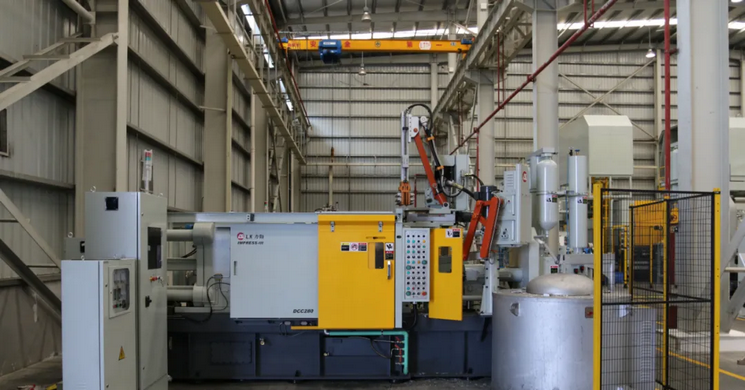 High speed injection
The quality of ultra-thin wall products is closely related to the injection speed and the cavity fill-in time. IMPRESS-S has a precise injection system that would ensure the proper injection speed and fill-in time.
Independent pressure intensification design
The machine is equipped with the pressure intensification function that is coupled with appropriate clamping force. That is especially important in thin-wall production.
Short cycle time
Two smartphone components can be made in a single cycle with a cycle time as low as 12.8s.
Outstanding energy efficiency
Servo system driven designed for power supply only as needed, resulting in lower energy consumption.