Interview with LK: Opportunities associated with Die-Casting
From: 2020-05-31 To: 2020-05-31
Region: China Hong Kong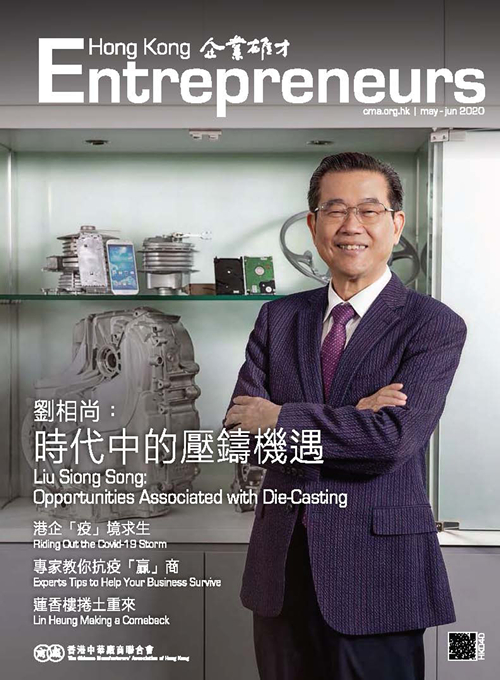 Recently, the Chinese Manufacturers Association of Hong Kong conducted an exclusive interview with Mr. Liu Siong Song, the founder of LK Group, and published it in "Corporate Talent". The following is the full report of the interview:
Liu Siong Song, founder of LK Group, has been riding on the easterly winds of China's reform and opening-up for 40 years. He has seized every development opportunity in the nation,transforming LK Group from a small machine factory into the largest manufacturer of die-casting machines worldwide. It is his belief that only by adhering to the motto of "focusing on technology and putting customers first" can the Group move forward through changing times.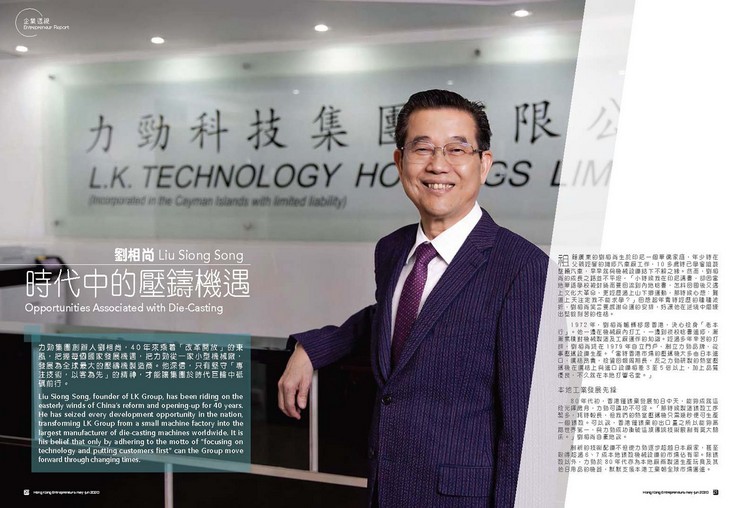 Though his ancestral home is in Guangdong, Liu was born into an overseas Chinese family in Indonesia. When he was young, he worked in an automotive repair factory run by
his father. By the time he was 10, he had already learned to assemble an entire car. His career has focused on mechanical equipment since those early days. However, during his formative years, his life path was not smooth.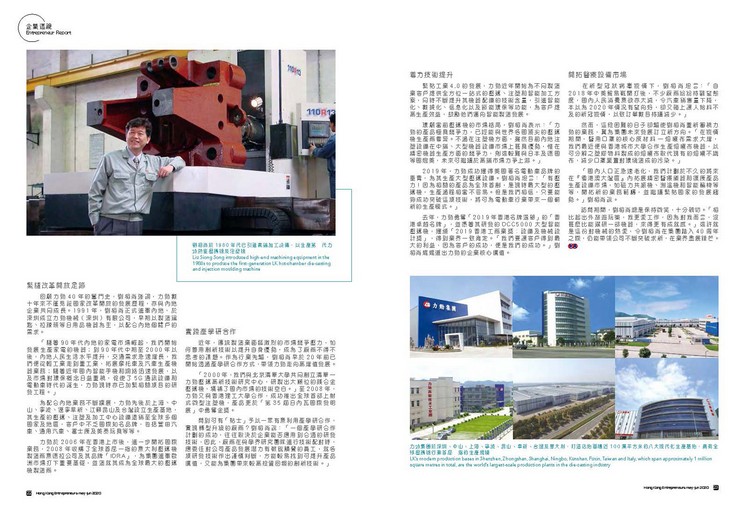 "When I was a child studying in Indonesia, I was forced to return to the Mainland to continue my education due to blockades at the Chinese language school. I had unexpectedly encountered the Cultural Revolution after returning to China, and I even experienced the Down to the Countryside Movement and was forced to live in the countryside. At that time, I thought I was destined to stop education."As Liu recalled the ups and downs of his youth, he smiled. He expressed his thankfulness for the unexpected interventions of fate that had cultivated his strength to perseverance in the face of adversity.
In 1972, Liu moved to Hong Kong and was determined to take up his "old business". While working in a machine factory, he also studied in night school to learn more about machine manufacturing and factory operations. After years of hard work, Liu started his own business with the brand name LK in 1979 and engaged in the production of die-casting equipment.
"The majority of die-casting machines available in the Hong Kong market were imported from Japan at a high price,resulting in a longer return on investment period. In contrast,the selling price of LK's hot chamber die-casting machines was three to five times lower than that of the imported equipment,and together with good product quality, LK gained acclaim in the local market."
Pioneer of the Local Manufacturing Industry
In the early 1980s, the Hong Kong watch and clock industry was in its glory days, largely due to LK's contributions.
"At that time, making watch cases involved numerous time-consuming processes. However, our hot chamber diecasting machine could produce a watch case in just a few seconds. So, the reason for the export volume of Hong Kong's watch industry being ranked No. 1 in the world is closely related to LK's breakthrough in technology."
Innovative technical equipment not only enabled LK to gradually surpass Japanese manufacturers but also allowed the company to achieve a market share of over 60% to 70% in machine equipment for local watch cases. In the 1980s, LK also manufactured machines for local manufacturers of toys and other daily necessities, which provided support for Hong
Kong manufacturers to enter the global market.
Following the Development of China's Reform and Opening-up
Looking back on LK's 40-year history, Liu emphasized that the company has not only witnessed the developments of China's reform and opening-up in the past decades, but also developed alongside other Chinese enterprises. In 1991, LK officially entered the Mainland market and established LK Machinery (Shenzhen) Co., Ltd. In the early days, the company mainly focused on manufacturing machines that produced daily necessities, such as keys and zippers, to meet the needs of individual businesses in the Mainland.
"With the rise of the home appliance market in the Mainland in the 1990s, we began to develop machines for home appliance production. By the mid-1990s and continuing through the 2000s, Chinese living standards had significantly improved, leading to an increase in traffic demand. We gradually transformed our business from light to heavy industry by expanding into machinery businesses for motorcycle and automobile production."
"Additionally, the rapid development of smartphones and networks and the increasing focus on environmental issues have led to the birth of a new era, one involving 5G communication and electric vehicles. LK has also stepped up its R&D projects for related products", Liu said.
To cope with its business expansion in the Mainland, LK set up production bases in Shanghai, Zhongshan,Ningbo, Fuxin (Liaoning), Kunshan (Jiangsu) and Taiwan.The die-casting and injection moulding equipment, as well as CNC machining centres manufactured by LK, has been exported to various countries and regions across the globe. LK's customers include various internationally renowned brands, such as Toyota, General Motors,Foxconn and Mattel.
After its public listing in Hong Kong in 2006, LK further expanded its international business. In 2008,LK acquired Idra, a world-leading die-casting machine manufacturer based in Italy, along with its brand name.This laid a solid foundation for the group to enter the European market, and LK became the world's largest manufacturer of die-casting machines.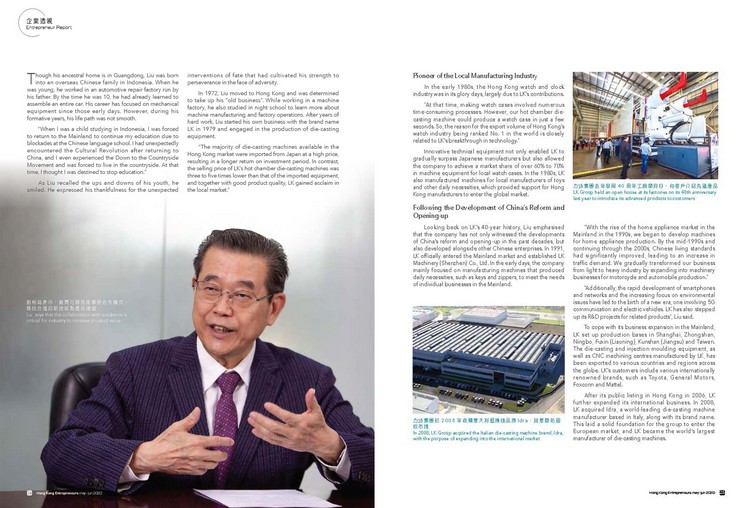 Achieving Industry-Academia Collaboration in R&D
The traditional manufacturing industry has been confronted with intense pressure from market competition.Therefore, it is essential for the manufacturing industryto optimise its technological applications to enhance its comparative advantages.
As a pioneer in the industry, Liu has led LK towards high value-added products through cooperation between industries, universities and research institutes. As Liu stated, "In2000, we established the Tsinghua-L.K. Advanced Die-casting Technology Research Centre with Tsinghua University, and we developed a large-tonnage magnesium alloy die-casting machine to fill the technology gap in the Mainland market."By 2008, LK cooperated with the Hong Kong Polytechnic University and had launched the world's first bottom-up high- precision plastic micro-injection moulding machine, a product that received the "Gold Medal Award at the 35th International Exhibition of Inventions Geneva."
When asked if he had any tips for manufacturers who would like to leverage industry–academia cooperation to achieve transformation and upgrades, Liu replied that the essential success factor is whether the manufacturers can apply the most suitable technology in the manufacturing process. "When pairing technology with academic research teams, manufacturers should appoint employees who have a keen sense of product development to make judgments on choosing the appropriate technologies that can help improve the value of the product and bring high returns."
Focusing on Technological Enhancement
With the emergence of Industry 4.0, LK has begun to provide comprehensive die-casting, injection moulding and smart-machining solutions for customers of various manufacturing industries. LK has been upgrading the technology aspects of its machinery to introduce intelligent solutions, such as datamation and digitalisation, and energysaving and environmental protection functions to improve customers' production efficiency, thus encouraging their customers to move towards smart manufacturing.
In view of the current market for die-casting machines,Liu believes that LK's products are very competitive and can already be in line with the top die-casting machine manufacturers in various countries in the world. "China's injection molding equipment is very advantageous in the mid-range and large-scale machinery and equipment market, but in terms of precision machinery production, it may be difficult for China to compete with countries such as Japan and Germany. Local manufacturers can continue to strive for upstream in the high-end market."
In 2019, LK successfully partnered with a well-known American electric vehicle company that had produced the largest-scale die-casting machine available on the market worldwide.
"Of course, that created a lot of pressure! The production process was not easy, but we knew that as long as we could overcome the challenges of this technology, we could bring a brand-new production model to the electric vehicle industry",Liu said.
Last year, LK won the "Hong Kong Premier Brand" in the 2019 Hong Kong Top Brand Awards. LK was also conferred the Equipment and Machinery Design Award for its DCC5000 large-scale intelligent die-casting machine in the 2019 HongKong Awards for Industries. Liu attributes LK's success to its underlying motivation: "We want our customers to get the most benefit because their success is our success," he said in the interview.
Stepping into the Medical Equipment Market
The COVID-19 pandemic has had unexpected results."Since the flare up of the Sino-US trade disputes in 2018,many manufacturers have adopted a wait-and-see attitude. Consumer sentiment in the Mainland has greatly reduced,which has led to the decline of motor vehicles' sales volume.At first, we thought the situation might improve in 2020, but we were unexpectedly faced with the COVID-19 pandemic,causing a continuing decline in orders", Liu described.
These difficult times have driven Liu to re-examine his business and to set a new direction for LK's future development. LK has seized the opportunity of surging demand for melt-blown cloth, the core material of making medical masks, "We have cooperated with the City University of Hong Kong to develop melt-blown cloth machines to produce decomposable plastic fabrics in the hope of reducing the pollution caused by traditional disposable masks."
He also sees the silver economy as a new business opportunity. "With the aging population in the Mainland, we are planning to expand the production of precision medical instruments and rehabilitation equipment, such as Magnetic Resonance Imaging (MRI) machines, thermometers and smart wheelchairs, in the Guangdong-Hong Kong-Macao Greater Bay Area in the near future. As we continue to explore our scope of business, we will keep ourselves abreast of national development trends."
During the interview, Liu was always smiling. "I love working more than traveling or entertainment," he confided;"there is nothing more fulfilling to me than developing a machine." Perhaps Liu's love of machinery has allowed him to continue leading the company after its 40th anniversary,striving to break new ground and stand out in the industry.