LK Group held the 2019 Spring Festival Gala
From: 2019-01-21 To: 2019-01-21
Region: China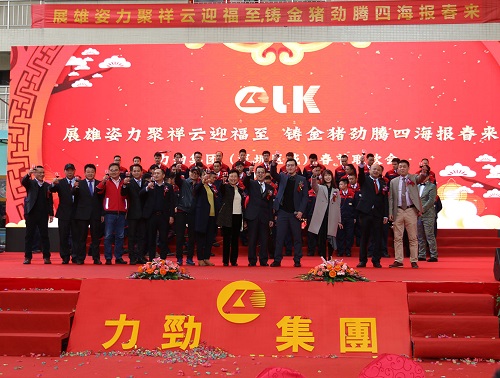 The exhibition of the heroic spirit gathers Xiangyun to welcome the blessing, and the cast gold pig is full of four posters. On January 21st, the 2019 Spring Festival Gala of LK Group Shenzhen Region was held at the Shenzhen production base. Mr. Liu Xiangshang, founder of LK Group, Ms. Zhang Qiaoying, Chairman of the Board of Directors, Mr. Liu Yingying, Assistant Mr. Liu Zhuoming, Mr. Xu Niansheng, Director of the Group Technology Development Center, and Ms. Pan Lingling, General Manager of Shenzhen Lingwei Technology Co., Ltd. attended the event.
A "open door", the dance began, the 2019 Spring Festival Gala of LK Group Shenzhen District kicked off.
General Manager Pan Lingling delivered a New Year message. She expressed her holiday greetings to everyone, introduced the company's main work and achievements in 2018, and encouraged everyone to continue to work hard in 2019 to achieve new results.
Mr. Liu Zhuoming delivered a speech on behalf of the board of directors of the group and extended festive greetings and New Year greetings to LK employees, customers and suppliers. He said that in 2018, LK Group seized the opportunity of Industry 4.0, fully promoted the application of intelligent and informational equipment, and deeply participated in international competition, and achieved good economic benefits and brand influence. In 2019, the Group will take the construction of Dawan District of Guangdong, Hong Kong and Macao as an opportunity to follow the strategic development route of "One Belt, One Road" and face the world, and join hands with customers to enter the era of Industry 4.0. I hope that everyone will not forget their original intentions, strengthen their convictions and work together.
The Li Jin senior management team toasted everyone.
Mr. Liu Xiangshang, Ms. Zhang Qiaoying and General Manager Pan Lingling presented awards for "Best Team" and "Outstanding Staff".
LK staff performed a lot of wonderful programs.
2018 has passed, and 2019 has arrived. LK also celebrated its 40th anniversary. In this special year, we will work together to create a better future and cheer for a better tomorrow!