LK 5000T intelligent die-casting unit is put into production in Guoxuan
From: 2019-01-03 To: 2019-01-03
Region: China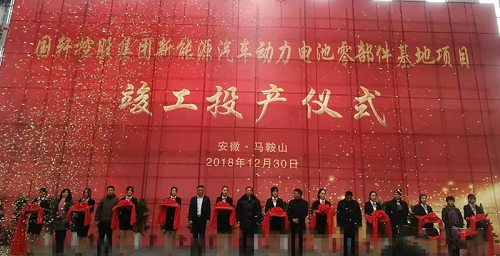 Recently, LK Group was invited to participate in the completion and production ceremony of the new energy vehicle power battery parts base project of Guoxuan Holding Group. Ms. Pan Lingling, the general manager of Shenzhen Leadwell Technology Co., Ltd., attended the event.
The project covers an area of ​​213.5 mu, with a construction area of ​​140,000 square meters and a planned investment of 2 billion yuan. The 5000T intelligent die-casting unit developed by LK Group is used for the construction of magnesium alloy and aluminum alloy die-casting parts and surface treatment production lines.
  LK 5000T intelligent die-casting unit is a large-tonnage die-casting production unit, which produces large-scale magnesium-aluminum alloy structural parts such as automobile aluminum alloy engine block and gearbox casing, which reduces the weight of the vehicle, reduces fuel consumption, and increases the battery life of new energy vehicles. With direct advantages, it will provide a solid guarantee for the project to achieve the goal of producing 200,000 new energy vehicles with light weight magnesium and aluminum alloy die-cast structural parts.
  Guoxuan Holding Group is a well-known group company in Anhui Province, with strong strength in industrial manufacturing and new energy operations. As lightweighting has become the development direction of traditional fuel vehicles and new energy vehicles, lightweight structural parts have been welcomed by more and more auto manufacturers and component suppliers. In cooperation with Guoxuan Holding Group, LK Group will achieve a win-win situation in the field of automotive magnesium-aluminum lightweight structural parts manufacturing, and further expand the application prospects of magnesium-aluminum metal materials.
  LK Group is committed to providing excellent automotive structural die casting forming solutions. In recent years, it has reached cooperation with GM, Toyota, Dongfeng Honda, BYD, FAW, Jianghuai and other car companies to jointly promote the transformation of automobile consumption and promote the development of the automobile industry.