LK Group and Ruiming Group established strategic cooperation
From: 2018-10-19 To: 2018-10-19
Region: China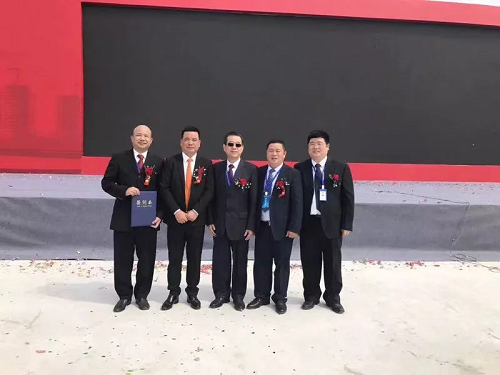 On October 19th, the province's provincial and provincial government-sponsored major projects for the expansion of effective investment projects in Wenzhou were held in the Ruiming Group's automotive key components intelligent industrial park project.
Wenzhou City, four sets of team leaders, city court president, city procuratorate procurator, provincial industrial agglomeration district management committee director, municipal people's congress standing committee, municipal government, municipal association secretary, county (city, district) party committee, government mainly The person in charge, the main person in charge of the relevant units of the city, the banking institution, the heads of 72 centralized project units, and the management personnel and employee representatives of Ruiming Group participated in the event.
Han Jian, Chairman of Ruiming Group, thanked the friends from all walks of life for their concern and support, and introduced the company's business development and development strategy. He said that after many consultations and field visits, Ruiming Group and CITIC Bank Wenzhou Li'an Branch, China Agricultural Bank Li'an Branch and Hong Kong LK Group started four strategic partnerships. This strategic cooperation shows the full trust and support of the four partners to Ruiming Group. Ruiming Group will examine our development with a more open attitude, a longer-term strategic vision and a larger structure! We believe that with the concept of sincere cooperation and mutual benefit, we will create new miracles and future!
Chen Yizhao, director and deputy general manager of Ruiming Group, spoke on strategic cooperation, from talent training, equipment and equipment, supply chain management, customer development and information construction. He said that with the support of so many strategic partners, there is a rapid development of Ruiming today. With a great vision to become a world-class auto parts company, Ruiming must work hard together with all strategic partners to develop together. We hope that more new strategic partners will join the Ruiming Group's strategic cooperation system.
Mr. Liu Xiangshang, founder of LK Group, delivered a speech. He expressed his pleasure to reach a strategic partnership with Ruiming. Ruiming's rapid development in the industry is impressive. In the future cooperation process, LK Group will support Ruiming development from all levels to provide Ruiming with the most satisfactory products and the best service. We will fully assist the construction of the new industrial park with the help of the highly competitive industrial advantages of both parties. The two sides will build a strategic partnership based on mutual trust and development, and create a good situation of co-creation, sharing and win-win.
Mr. Liu Xiangshang and Deng Yiming, Director of South China Marketing of LK Group attended the signing ceremony of strategic cooperation. The two sides officially launched a strategic cooperation project to jointly build a new industrial park of Ruiming Group to jointly create a better future.