Liuzhou Mayor visits LK
From: 2018-09-18 To: 2018-09-18
Region: China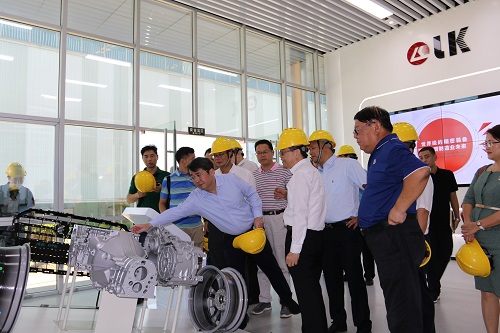 On September 18, Liuzhou Municipal Party Committee Secretary, Mayor Wu Hao, Deputy Secretary of the Municipal Party Committee, Liu Donghui Party Party Committee Secretary Liang Xuhui, Vice Chairman of the CPPCC National Committee, and Party Secretary of the Northern Ecological New District Party Committee Huang Tao visited the Jinjin Group Shenzhen Production base. Liu Xiangshang, founder of LK Group, and Deng Yiming, Marketing Director of South China, attended the reception.
The delegation visited the production base of LK Group in Shenzhen and learned about the R&D, manufacturing and production of the factory.。
In the following discussion, Mayor Wu Hao represented the speech and first recognized the strength of LK Group. He said that Liuzhou is currently accelerating the pace of economic upgrading and industrial transformation, promoting high-quality industrial development and building a modern manufacturing city. As an automobile industry city, the industrial foundation is solid. In the future, the middle and low-end automobile manufacturing will develop to medium and high-end automobile manufacturing, and the manufacturing industry chain from accessories to complete vehicles will be built. The development direction of LK Group is highly compatible with the industrial structure adjustment of Liuzhou. Warmly welcome LK Group to Liuzhou for industrial layout, give full play to LK Group's technological advantages and product advantages, combine Liuzhou's industrial base, location advantages and general policy, open up a broader market and create a win-win development model.
Mr. Liu Xiangshang welcomed the arrival of the leaders of the Liuzhou Municipal Party Committee and the Municipal Government. He thanked the delegation for its recognition of LK. At present, China's die-casting parts and injection molded parts are leaping into the mid-to-high-end market. They are very optimistic about the business environment and industrial structure of Liuzhou. From automobile manufacturing to rail transit and construction machinery, the market potential is huge. He said that the future will be the car in Liuzhou. Industry development contributes strength and hopes to receive strong support from relevant units.
Liuzhou City is the largest industrial city in Guangxi. The total industrial output accounts for about one-fifth of Guangxi, one of China's five major automobile cities, an industrial center in the southwest, an integrated transportation hub, and a trade and logistics center. It is the only one in the country that owns FAW, Dongfeng, SAIC and The four major auto group manufacturers such as heavy trucks, the important channel of China's inland to ASEAN, the ASEAN two-way product processing and trade base and logistics transit base city, and the southwest sea channel large-distribution hub city, "One Belt and One Road" "The important node of the organic convergence portal.