Staff Awards for 20-years service
From: 2018-11-08 To: 2018-11-08
Region: China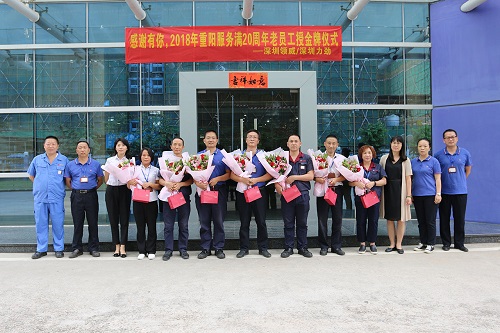 20 years, thank you for your service — LK Staff Awards Conference
For the rest of our life, the proportion of 20 years is quite high. At the production base of LK Group in Shenzhen, there are so many respectable employees who have been working together for 20 years to participate in and witness the growth and development of the company. Every solid footprint, every hard work, is full of support and trust for the company.
On October 27th, the seven employees from LK ushered in the 20th anniversary of their hard work. They belong to different departments, different positions, with the same sincere heart, down-to-earth, hard work, and dedication to youth and time in the work of the strong. Ms. Pan Lingling, General Manager of Shenzhen Region, presented flowers and commemorative cards to each employee.
In the twenty years, I took a finger. In the early 1990s, LK Group officially entered Shenzhen, took root in Shenzhen development, and injected the corporate culture of openness, transparency and open communication into the Shenzhen subsidiary. It has always encouraged, supported and cultivated the personal growth of its employees, affirming individual performance and Team achievements, put the right people in the right place.
Not only these 7 employees, they have been developing for 40 years, and there are many people like them. Although they are in ordinary positions, they are dedicated and diligent in this ordinary position. Diligence, dedication and loyalty make them trustworthy and respectful.
Thank you for being there, thank you for your strength.